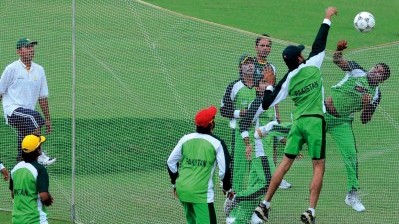 ---
LAHORE: The air-travel chaos created by the ash-cloud from an erupted volcano is over and the Pakistan cricket team will be proceeding to the West Indies as previously planned, according to the Pakistan Cricket Board (PCB). Earlier, the International Cricket Council (ICC) had planned to arrange chartered flights from Dubai for most South-Asian teams, including Pakistan, if the cloud had not cleared. However, the ICC and the PCB confirmed that those were backup plans and things were back on track now.

"The players will now fly via regular carriers," a PCB spokesperson told The Express Tribune. "Pakistan players will take a connecting flight from Dubai onto England before reaching the West Indies." "Following the relaxation of air travel restrictions in the United Kingdom and other parts of Europe, the competing teams in the ICC World Twenty20 2010 in the Caribbean will revert to their original travel schedules for the competition," an ICC release said. "With the aid of our commercial partner, the ICC had put in place a contingency plan to airlift teams direct from Dubai to the Caribbean if the travel disruption in Europe did not ease."

However, with the routes clearing up yesterday, the ICC Chief Executive Haroon Lorgat confirmed that the teams will fly to the West Indies "as originally scheduled". Pakistan's other worry was their fast-bowler Mohammad Asif's travel plans. Asif has been banned from entering Dubai by the UAE authorities and, as a result, needs alternate arrangements in a similar manner to how he arrived via an alternate route for the Champions Trophy in South Africa last year.

"Asif's travel plans were never in jeopardy for the tournament," said a PCB official. "We have a contingency plan for Asif just like we arranged a separate logistic plan for him last year for South Africa." Asif was detained at Dubai International Airport for possessing banned drugs and after was released after 19 days in custody. Following the ban, the PCB has been forced to withdraw him from Pakistan's assignments in the UAE which, based on foreign teams' reluctance to tour Pakistan, has been their 'home' ground. Pakistan are due to host South Africa in Dubai and Abu Dhabi in October this year.
COMMENTS
Comments are moderated and generally will be posted if they are on-topic and not abusive.
For more information, please see our Comments FAQ