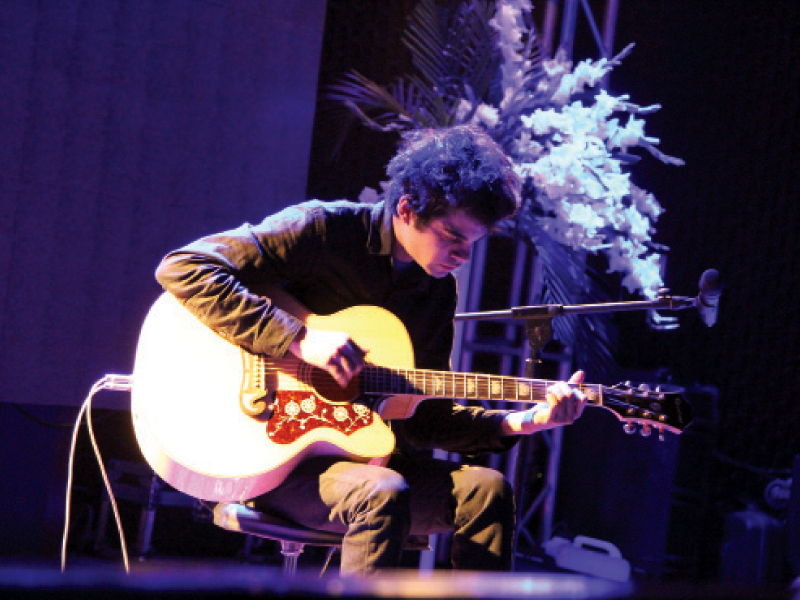 ---
KARACHI: Budding musician, Usman Riaz, has made a name for himself in the industry in a very short time due to his tremendous talent with the guitar, classical piano and harmonica, and has a very promising career in the field. The talented youth addressed the queries of his fans at the Aga Khan University's Special Lecture Series, held at the Aga Khan University auditorium on Thursday.

The 23-year-old started playing classical piano at the age of six and tried his hand at the guitar and harmonica at the age of 16. He is also the youngest fellow of TED (technology, education and design).

Introducing the talented musician to the audience, Shehnaz Ismail of the Indus Valley School described him as a source of inspiration for today's youth. "He is not behind Malala, Aitzaz Hasan or members of the Lyari football team who have glorified Pakistan's name across the world," she smiled.

At the session, Riaz played a total of six songs: three with the guitar, two on the piano and one using the harmonica. "Music has inspired him since a young age because all our family members were inclined towards music, whether it was eastern, western or traditional," Riaz's mother told The Express Tribune. "I always had an image in my mind and I only make those pieces in which I feel the negative and positive forces working simultaneously," said the multitalented after a five-minute performance.

But music is not Riaz's only forte - he has proved to be equally adept at film-making, having written and directed short films recently. "One of my favorite short films, 'Ruckus' depicts my thinking and the change that I wish for society," he explained. "I started making 'Ruckus' on paper as sketches and made the whole movie on a notebook. When directors did not show much interest in the project, I decided to step into their shoes as well."

Another short-film by Riaz, 'Middle of the Ocean', was selected to be screened in the New York Film Festival. "This film shows the feeling of helplessness of a man and what he must do in times of hunger and need," he explained.

For Riaz, the proudest moment of his life was when he performed at the 'Blue moon Waltz' at the Berklee College of Music, he recalled. "I will never work for full feature films but I am looking forward to working on animated films in the coming year," he told The Express Tribune.

"I have been writing for the orchestra from a very young age and never thought about techniques and traditions; I don't care how fast my fingers are moving because music is my first and last love," he said, describing his feelings when he first performed in Brazil on New Year's Eve, 2014.

Published in The Express Tribune, January 9th, 2015.