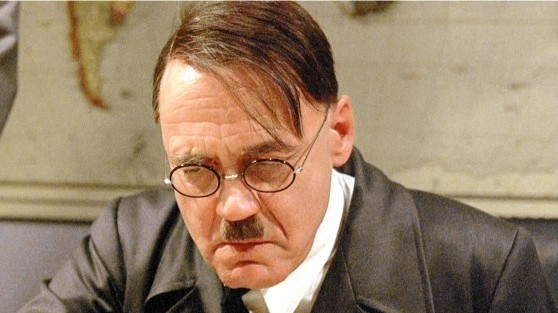 ---
KARACHI: If you have ever received a video titled 'Hitler is mad at ...' you've been exposed to the Downfall meme. The spoof videos, which depict 'Hitler' ranting and raving about anything from a news story to a technological development, snowballed into a full-fledged meme over the past few years. But this is coming to an end as the producers of the original film Downfall have decided to remove the videos from YouTube and other websites. TechCrunch.com reported this week that Constantin Film, the producers, have pulled the spoof videos off.

They now bear the message - 'This video contains content from Constantin Film, who has blocked it on copyright grounds'. Several videos are already unavailable, leading to consternation from the creators of the spoofs and fans. The original clip that is used for the spoof is taken from the 2004 film Downfall, which charted the German leader Adolf Hitler's actions during the last days of World War II. The video depicts an extremely angry Hitler who orders most of the people assembled in the bunker to leave before he talks to his trusted confidantes. Hundreds of Hitler spoof videos exist, which are made by enthusiasts within hours of a major news event.

They add new subtitles to the scene, upload them to YouTube and lo and behold - a new viral video is born. The spoofs have garnered fans worldwide, and among them is the director of the original film that inspired it all. Downfall director Oliver Hirschbiegel told New York Magazine's Vulture blog that he had seen hundreds of the spoofs. "Someone sends me the links every time there's a new one," he said. "I think I've seen about 145 of them! Of course, I have to put the sound down when I watch. Many times the lines are so funny, I laugh out loud, and I'm laughing about the scene that I staged myself! You couldn't get a better compliment as a director."

"If only I got royalties for it, then I'd be even happier." The spoofs, however, have taken the sight of an actor playing one of the most reviled men of the 20th century screaming in German to a whole new level. Search for 'Downfall' or 'Hitler is ...' on YouTube and a plethora of videos pop up, often ending with Hitler mournfully uttering "cancel the clown".

Several scenarios exist: Hitler is angry that Michael Jackson died, days before Jackson was to perform at his birthday. Hitler yells about Kanye West interrupting Taylor Swift at the MTV Music Awards. Hitler is mad at Tiger Woods' infidelity. Hitler can't get tickets to see Billy Elliott (Hirschbiegel counts that one as a favourite). As for what 'Hitler' thinks of the Downfall meme, there's even a video about that.

Hitler screams that "this joke stopped being funny in 2008" and blames "a bunch of geek losers with iMovie" for keeping the trend alive. Now if only someone would make a spoof video telling us how upset Hitler is that Constantin is interfering with his status as a comic symbol ... Pakistan and the Downfall meme Even though the videos became popular in Pakistan months after the trend started, there are plenty of Pakistani fans of the Downfall meme. Several spoof videos based on Pakistani scenarios exist, the most popular being 'Hitler wants a united Eid' which does the rounds of Facebook and Twitter every Eid while Pakistanis look to the skies and wait for a date to be announced.
COMMENTS (2)
Comments are moderated and generally will be posted if they are on-topic and not abusive.
For more information, please see our Comments FAQ