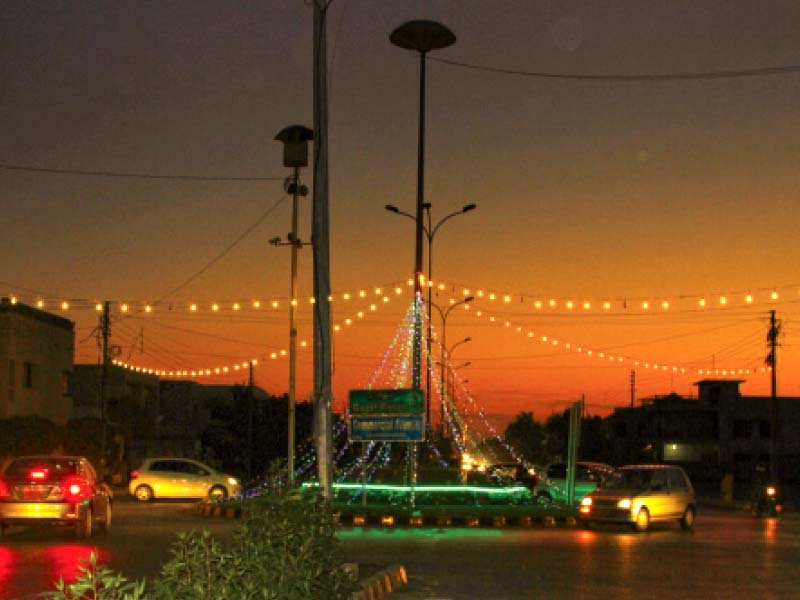 ---
KARACHI: A few neighbourhoods in the Defence Housing Authority (DHA) have been lit up to celebrate Eid Miladun Nabi (pbuh), making it one of the rare occasions when the area geared up for such a celebration.

The roundabouts, where Khayaban-e-Shahbaz intersects with Commercial Avenue and where 26th Street meets Khayaban-e-Badar, have been decked up in green, gold and red strings of bulbs.

DHA representative Major Aurangzeb explained that the lights come under the jurisdiction of Cantonment Board Clifton (CBC). It was Ahle Sunnat Wal Jamaat (ASWJ) that sought permission to light the main thoroughfare, said CBC spokesperson Amir. "KESC (sic) has subsidised it [light connections] for the group."

Later, the ASWJ representative Omar Mawia denied putting up the lights and it turned out it was Dawat-e-Islami, a non-political movement for the propagation of the Holy Quran and Sunnah, according to its website.

Concession in times of debt

A K-Electric spokesperson confirmed to The Express Tribune that they were approached by Faizan-e-Madina, the global headquarters for Dawat-e-Islami, located in Karachi.

"The religious group Faizan-e-Madina has taken the task of lighting up Karachi, not just Defence," he said. "And we are offering them a heavily subsidised tariff of Rs5 per unit." The spokesperson explained that the commercial tariff is Rs26 per unit but they are offering a subsidy. Officials at both Faizan-e-Madina and K-Electric confirmed these details are on paper.

The K-Electric official explained that the subsidy is meant to be a deterrent for 'kunda' connections. "For such religious events, we encourage them to use legal connections at the subsidised rates," he said. Considering that most organisations usually put the illegal electricity connections without informing the utlity, K-Electric said they offered a subsidy as this group approached them first.

"We told them we would help you guys out," said the spokesperson. Their teams visited the locations in DHA, Saddar, Bahadurabad and other places. They planned the installation of each light, decided how to distribute the load on the PMTs and then installed it for them," said the spokesperson. "We aren't saying this particular group uses kundas but most of them would just go ahead and hook up a connection illegally," he clarified. "We are promoting a culture of 'come to us and do not use illegal connections'."

The small lights dotting these roads are, however, taking a fair share of the electricity load. For example, a 500-yard house that has air-conditioners and several lights uses up on average a load of two to three kilowatts (KW). The lights at the roundabouts, set up for over 10 to 12 days, are using up more than 200KW in DHA alone, estimated the K-Electric official.

For their part, Dawat-e-Islami also claimed to have used subsidised connections to convince people that using 'kunda' connections is a sin. A lot of people approached the organisation to light up various neighbourhoods so the representatives approached K-Electric and managed to get a discount, said a spokesperson. "We told them it is a sin to steal. If you're doing it for Islam, then do not steal."

Every time a group approaches them to deck up their streets for Eid Miladun Nabi (pbuh), the organisation draws up an agreement with K-Electric on behalf of the residents. "Bilawal Masjid, Bath Island, Teen Talwar, all of Defence, thanks to the Almighty, there are lights everywhere," said the Dawat-e-Islami representative, adding that each area has a bill that mentions the date and time when the lights went up.

The CBC officials are, however, not comfortable about the lights dotting the streets given the recent tragedy in Peshawar. "We sent a letter taking back our permission to put up the lights, asking the group to take them off," said an official, adding that they cited 'electricity issue' as the reason to take down the lights. When their notice went unheeded, the CBC decided to let it be.

Published in The Express Tribune, January 4th, 2015.
COMMENTS (1)
Comments are moderated and generally will be posted if they are on-topic and not abusive.
For more information, please see our Comments FAQ