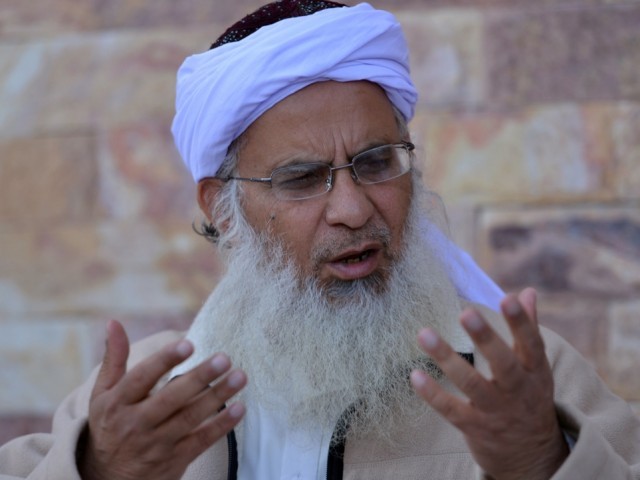 ---
ISLAMABAD: Civil society activists plan to keep pushing the police to arrest the controversial cleric of Lal Masjid.

Members of the civil society plan to hold a meeting in this regard on Monday.

Senior Civil Judge Saqib Jawad issued an arrest warrant on December 26 last year after Aabpara police sought the arrest of Maulana Abdul Aziz in response to an FIR lodged under Section 506 (II) for criminal intimidation.

While talking to The Express Tribune, activist Jibran Nasir, who spearheaded the protest against the cleric, said they would use the legal path first and then "look into in to some other options".

He said though the police had been cooperating with them, it was beyond comprehension as to why they were reluctant to arrest the cleric who was supporting and sympathising with extremists and terrorists.

"We do not want to create any trouble for the administration by arranging mass gatherings. We just want results," Nasir said, adding that "We do believe in our institutions and will leave no stone unturned to get the cleric arrested by the police," he said.

Rights activist Farzana Bari said they had decided to arrange a meeting to work out a strategy to deal with the situation. "We can give a call to protest again but it has not been decided yet," she said.

Bari urged the police to immediately arrest the cleric.

"We will discuss all aspects of the case in the meeting (on Monday)," adding that "we will not remain silent and our campaign will continue till his [Aziz]'s arrest."

Kapil Dev, another activist, said it was painful to see the cleric, who was a sympathiser of terrorists, still at large.

He said they wanted to get rid of all those elements, which were creating differences and hatred in society members on sectarian, religious and ethnic grounds.

Dev said the present government should also make its stance clear whether they were actually serious in eradicating extremism from society.

"This case is a litmus test for the government and they will have to arrest the cleric, otherwise we will continue our struggle," he said.

Published in The Express Tribune, January 4th, 2015.