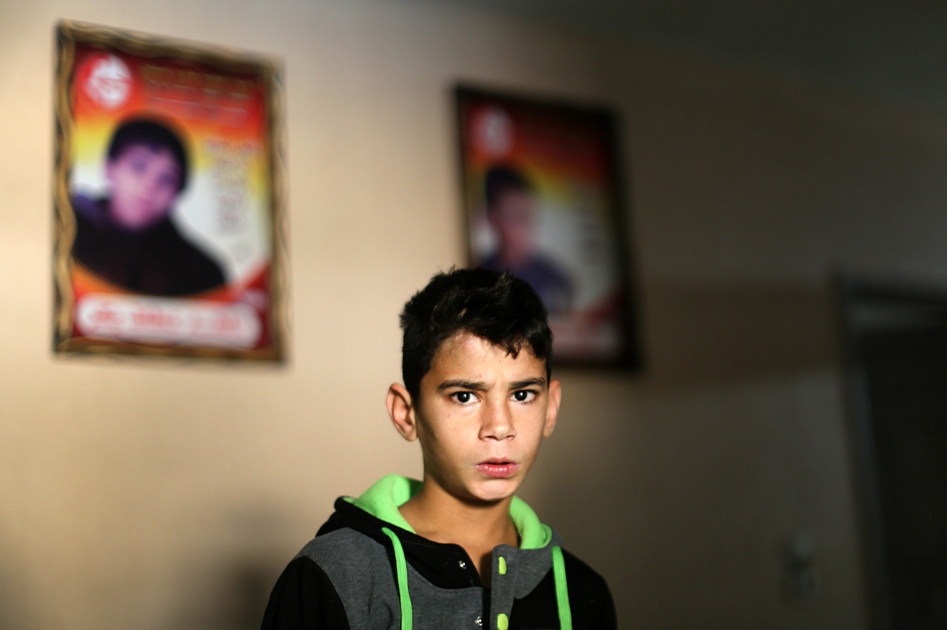 ---
GAZA: Muntasser survived an Israeli strike on Gaza this summer which killed his young brother and three cousins. Five months and a suicide attempt later the Palestinian boy remains haunted by the memory.

Just a week into the deadly 50-day July-August war, two Israeli missiles slammed into a beach in Gaza City where Muntasser Bakr, 11, was playing football with relatives.

Four of them, all aged between nine and 11, were killed.
Muntasser, like countless other children in the embattled Gaza Strip, now faces a personal battle to overcome the trauma and psychological damage caused by the violence.

The fighting, which lasted for six weeks after the beach strike, killed nearly 2,200 Palestinians and wounded more than 10,000.

In the densely-populated coastal enclave, where more than half of the 1.8 million population is aged 14 and under, children paid a terrible price.

More than 500 children were killed - around a third of them 12 and under - and they made up more than a quarter of the wounded.

The UN children's fund, UNICEF, says hundreds of thousands remain in desperate need of psychological help to overcome the long-term mental health damage the war caused.

"Since the incident, Muntasser has been receiving treatment from a mental health centre," says his 55-year-old father, Ahed Bakr.

"If his appointment is delayed, or he gets his medications late - even by just 10 minutes - you can't control him."

Bakr, who lost his nine-year-old son Zakaria in the beach strike, looks on worriedly as Muntasser silently chews his nails.

"He becomes extremely violent, he breaks everything and then he starts banging his head against the walls. He even tried to throw himself off the roof."

As well as trying to take his own life, Muntasser has also attacked relatives.

"The other day, we found him trying to hang his cousins," his father says, his hands fiddling restlessly with a packet of pills.

Since the bombing, Muntasser is "in another world" and refuses to go to school, says the father.

"What if he were to try and kill one of his classmates?"

Suddenly Muntasser begins to speak, his eyes fixed on the floor.

"I don't want to go to school. Before, I used to go with Zakaria, he helped me spell my name. Now he's dead," says the boy.

"I don't want to do anything, I just want to get a Kalashnikov and kill them all to avenge Zakaria and my cousins," he shouts.

For a few seconds the boy is silent before saying how he dreams of them each night.

"I dream that I am holding them in my arms. I will never go to the beach again because that's where they died."

Health professional Samir Zaqqut says the children of Gaza have been too traumatised to live a normal life.

"The memories they have acquired during the war are harsh and impossible to erase."

"They have all undergone successive shocks and continuous traumas," he tells AFP. "After three wars in six years, how can these children live a normal life?"

Coping with the flashbacks, nightmares and severe anxiety is made even harder by the lack of mental health clinics and professionals working in the battered territory, Zaqqut says.

When the fighting ended in August, Kamela Abu Hadaf discovered that all five of her children had began wetting the bed - a common symptom of stress and anxiety.

"I don't know what to do to help them," the 45-year-old mother tells AFP.

"During the war, they were completely terrorised, but we adults were also afraid so we weren't able to reassure them."

Today, her children are receiving some help from a group of German doctors who hold counselling sessions with them.

Raghda Ahmed also worries about her eight-year-old son Wissam.

"Since the war, he won't leave me alone any more, not even for a minute. He says: 'Stay with me so if the planes bomb us again we will die together'," says the 30-year-old. "Often I stay with him even at school."

Wissam suddenly interrupts his mother: "But why do we go to school and study? We will only be killed in the next war."
COMMENTS (11)
Comments are moderated and generally will be posted if they are on-topic and not abusive.
For more information, please see our Comments FAQ