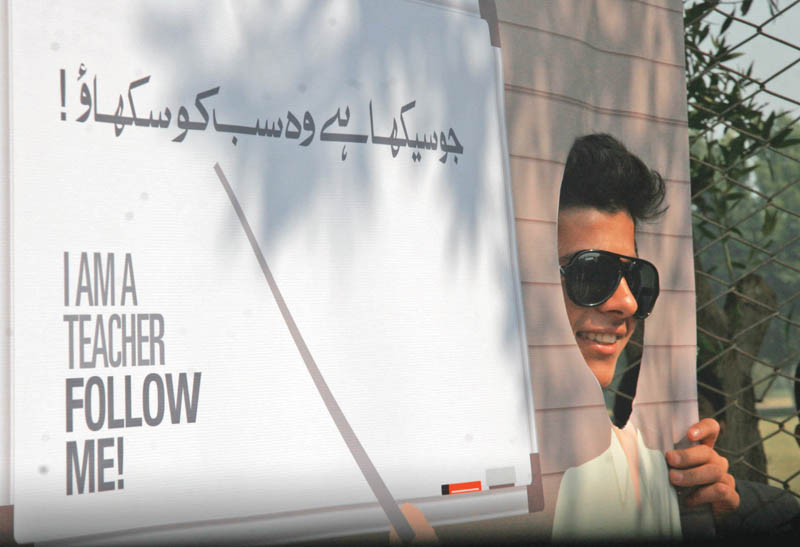 ---
TANDO JAM: The morning started with a call to take action against illiteracy and soon students, parents and teachers from across nine districts of Sindh gathered at the Sindh Agriculture University (SAU) to extend their support to the Aao Parhao campaign.

Zara Basharat, the campaign director, was overwhelmed to see the varsity's large tennis court brimming with people as she explained the idea behind the project and added that it was now reaching every corner of the country.

"It is really good to see how rural areas are advocating the right to read and write," she said. "Today [on Thursday], a large number of people have vowed to stick to the core of the project: Jo Seekha Hai Wo Sub Ko Sikhao [Teach others what you have learnt]. And that is the real success."




The event at SAU was held in collaboration with Shades, an organisation that works for students and appreciates teachers who are doing a remarkable job imparting education despite unfriendly circumstances. Scholar Dr Maqsood Anwar Rustamani presided over the event as the honorary guest. The main event was followed by an Olympiad in which 31 activities including athletics, football and cyber games were sported.

"Books are not enough to build a child's character," said Manzoor Ahmed Memon, a high school teacher. "They learn more while playing."

Memon was among the 149 teachers, who were given souvenirs at the event for their hard work. He said that most of the children in the rural areas did not go to schools because they were not motivated enough. He added that unfortunately, the charm of inspiring was missing from the fraternity.

The teachers also appreciated the Aao Parhao project and efforts made by the team to revive the learning and teaching process. They also appreciated the campaign ambassadors who have volunteered for the cause. The volunteers are mostly students from different districts of the country who are working on the project.

An Aao Parhao ambassador, Rajwanti, who is an MBBS student at the Liaquat University of Medical Health Sciences, said the tagline of the campaign touched her and she was more than motivated to stick to it.

"I didn't learn much from studying but teaching others has taught me a lot," she said. "My knowledge grew more when my students asked me questions."





Students participate in the Aao Parhao campaign at Sindh Agriculture University in Tando Jam. PHOTOS: ATHAR KHAN/EXPRESS




Rajwanti said that she used to teach her friends and children from her village in subjects she knew well. "Teaching others what you know is the way to make Pakistan a stronger country," she said. "Despite militant attacks, we will continue to learn and educate as it will be a step towards strengthening the pillars of our country."

Secondary school students said that they too were willing to partake in the cause. A ninth grade student, Shahab, said that he felt bad when he saw some children from his village working instead of going to school because their parents could not afford to send them there.

"I want to teach such children myself," he said. "If these children don't get an education, our country will never progress."

Published in The Express Tribune, December 27th, 2014.