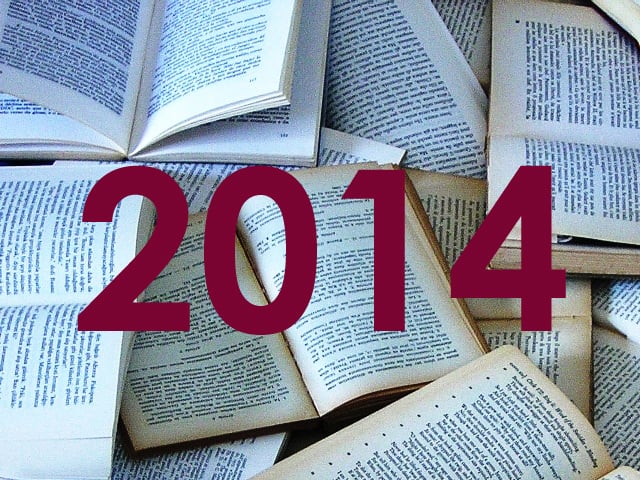 ---
Perhaps the most challenging list to compile at the end of a year is one that lists the 'best' books published within that year. Since not every book published within a year can be read by one person alone, objectivity is naturally impossible. So, all of these compilations are uniquely biased, highlighting the reading preferences of the compiler. But even within the bias there is benefit for readers who may have missed some of the most interesting books in the claptrap that is book marketing these days.
1. Stone Mattress: Nine Tales by Margaret Atwood


"From this distance it does resemble fun. Fun is not knowing how it will end."

After putting the MaddAddam trilogy to rest, and promising to write a book that will be read in the future, Margaret Atwood came out with this collection of short stories this year, which is the literary equivalent of a lop-sided grin and a wink. The nine 'tales' evoke a sense of magical realism, veer ever so slightly into gothic noir, skim past science fiction and, all in all, are a disturbing delight to read. There are hints of her earlier works in the stories. We get whiffs of the same insightful study of ageing Atwood shown in The Blind Assassin and her take on alienation and solitude as explored in Alias Grace — all in the best way possible. Some of the passages within the tales also feel like homage to literary greats like Roald Dahl and Ray Bradbury.

For those who want to read trademark Atwood without diving deep into the MaddAddam universe, this book is a treasure.

2. Through the Woods by Emily Carroll




"It came from the woods. Most strange things do."

This delightfully eerie graphic novel features five beautifully illustrated stories that will shock, unsettle and stay with you for a very long time. You will want to put away the book if you are alone at home and it is nighttime, yet, you will find yourself reaching for it again and again. Emily Carroll is a rare new talent who blends seamless storytelling techniques of old (think Poe, Hawthorne and Lovecraft) with carefully drawn graphics that are starkly chilling and refreshingly different from what is on offer in the graphic novel market today.

Through the Woods is not for the faint-hearted. It's a perfect companion for long, winter nights when the reader will be able to feel their heart pacing while reading these ghostly, ghoulish tales.

3. On Immunity: An Inoculation by Eula Biss




"Our bodies and the viruses (are) two competing intelligences locked in a mortal game of chess."

In 2010, Eula Biss realised that pretty much everything everywhere was out to kill her newborn son, and to save him, she needed the comforting support of medical science in the form of vaccinations. In this non-fiction collection of essays, the author has built upon fears many new parents have about diseases, germs, the degradation of environment and food quality and how vaccines can defeat them all. Rather than preaching generalities, Biss has written about the need for vaccination in a child's life from a deeper socio-cultural and psychological perspective in prose that is often dry but also beautifully on point. She takes the anti-vaccination brigade head on with factual information and anecdotal evidence, making this a tremendously fascinating read for all in Pakistan as the debate over polio vaccination continues. The fact that we are not the only country facing a backlash against vaccination of some kind or the other is, in the very least, quite fascinating.

4. The Seasons of Trouble by Rohini Mohan




"These children were being sent to face a real army when they could barely lift their guns."

Indian journalist Rohini Mohan has put down five years of intensive, gut-wrenching investigative journalism in Sri Lanka into this book, making it the most elegantly written non-fiction book on this list that is equal to any literary novel out there today. Revolving around the defeat of the separatist Tamil Tigers by the Sri Lankan army in 2009, The Seasons of Trouble is an emotionally charged narrative retelling of the lives of three women caught in the aftermath of three decades of civil war in the South Asian nation. As dust settles on the bloodshed, indiscriminate violence and targeted subjugation of minorities, more and more people find peace to be more troubling — and more unsettling — than outright conflict, as the state continues to target minorities and those who sympathise with them.

The book recounts the heroic struggle of Indra as she searches for her son Sarva who has been snatched away by state forces. It also carries the story of Mugil, a former child soldier with the Tamil Tigers, who deserted his ranks to protect his family. It is hard to imagine that the twists and turns elegantly chronicled in this book are not fiction. Unlike many other authors who have written about the Sri Lankan civil war in fiction, Mohan's visceral book stays with you longer because it heavily relies on the most tantalising storytelling tool: the truth.

5. The Opposite of Loneliness by Marina Keegan




"I want enough time to be in love with everything."

Youth was certainly not wasted on young Marina Keegan. A brilliant young writer and Yale student Keegan tragically died in a car accident a few days after her graduation from the Ivy League university but found allies and friends in millions after her beautifully poignant essay 'The Opposite of Loneliness' went viral on social media in 2012. At the time of her death, Keegan already had a much coveted staff job awaiting her at The New Yorker. The reason for that is beautifully presented in this posthumous collection of essays, poetry and vignettes which draws its name from the title essay and reads like a soulful and poignant ode to navigating the ups and downs of youth in an increasingly convoluted world.

This is a must-read for those who believe in the need for living each moment of their lives fully as if it is their last, for it may just be so. And as a bookish teenager recently suggested, "A better read for those still fawning over the pungent melodrama of The Fault in Our Stars."

Nuzhat Saadia Siddiqi is a Lahore-based writer and book hoarder. She tweets @guldaar

Published in The Express Tribune, Sunday Magazine, December 28th, 2014.