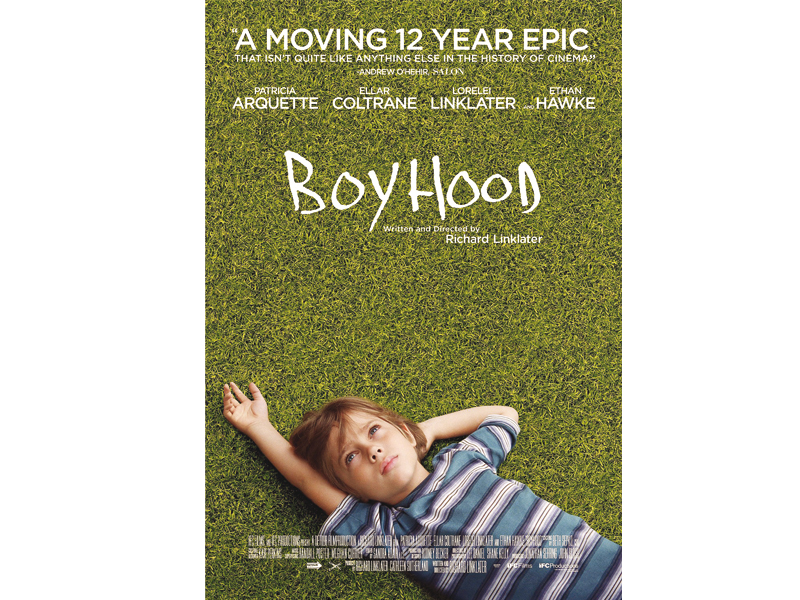 ---
The year 2014 may not have been a wonderful orbit around the Sun for the world in general, but as far as films were concerned, the year certainly had its fair share of impressive projects. The good ones took us on thrilling journeys to mysterious places, helping us discover more about ourselves and the world we live in. The best ones connected with us on an emotional level while exciting us with their ideas and visuals. So as the year draws to a close, we take a (subjective) look at some of its most distinctive and exhilarating cinematic offerings. Here are five of the finest films that 2014 had to offer:
Boyhood


There is a reason Boyhood is one of the most celebrated films of the year: it quite simply deserves to be. The most unique movie of 2014, Richard Linklater's opus was shot intermittently over a 12-year period, following the same characters portrayed by the same actors for a dozen years in an ambitious foray into temporal continuity.

In the beginning, we meet Mason Evans Jr (Ellar Coltrane) when he is a six-year-old, living in Texas with his elder sister Samantha (Lorelei Linklater, the director's real-life daughter) and single mother Olivia (Patricia Arquette) who has separated from their father Mason Sr (Ethan Hawke). By the end, Mason Jr is 18 and off to college. Encompassed therein, in all its messy shades, is 'boyhood' — the evolution of a little boy into a young man. The film subtly showcases the often mundane complications of human life, while exploring issues like divorce, alcoholism and heartbreak.

With its footage captured over a decade, then collapsed into a piece that runs for nearly three hours (around 165 minutes to be precise), Boyhood is quite an experience. Its concept could easily have turned out to be nothing more than a gimmick; instead, while it is the approach that initially lures you to the project, it's the emotional resonance that makes an impact and leaves you with one of the most memorable experiences of 2014.

Gone Girl




After a woman (Rosamund Pike) goes missing, her husband (Ben Affleck) starts to emerge as a likely suspect in her disappearance. But nothing is as it seems in Gone Girl, and that's what makes this dark, twisty tale one of the most riveting episodes of 2014. Gillian Flynn's gripping screenplay (which she adapted from her own 2012 bestseller that bears the same title) meets David Fincher's meticulous, stylish execution to take the viewers on a two-and-a-half hour rollercoaster filled with suspense. With casting choices that may seem peculiar at first glance (you don't expect to see 'Blurred Lines' model Emily Ratajkowski in a David Fincher film), the movie brings out the best in each actor and puts them all to perfect use; the leads in particular deliver outstanding performances.

You can see it as a thriller about a sociopath, an intelligent satire of media circuses or a deeper look at deception and entrapment, but no matter what lens you view it through, there is little doubt that you will be transfixed to the screen. This, ultimately, is what the perfect pairing of material and director can achieve.

Birdman or (The Unexpected Virtue of Ignorance)




Almost no other film this year can compete with the amount of acclaim that has been showered on Alejandro González Iñárritu's dark comedy Birdman or (The Unexpected Virtue of Ignorance). Made to look like most of it is one long, continuous take, the film follows the story of a washed up actor (Michael Keaton), once famous for playing a superhero called Birdman, who is trying to reinvigorate his career. The movie hits all the right chords in almost every department — direction, acting, screenplay, and cinematography — and has emerged as an early favourite this award season. The reason it might bag many accolades in the coming months is that it blends its smart satirical edge with a spectrum of human emotions. The supporting cast is exceptional, and (former Batman) Michael Keaton, who has played Batman before, is an inspired choice for the lead role, almost (but not quite) like art imitating life.

The Grand Budapest Hotel




Its premise — akin to a Wodehousian farce on steroids — might not have been everyone's cup of tea, but anyone would find it hard to deny the film's visual dexterity. The Grand Budapest Hotel is the whimsical story of a concierge (Ralph Fiennes) at an esteemed hotel, who teams up with the lobby boy (Tony Revolori) to prove his innocence after he is framed for murder. The composition of each scene, from the production design to the fluidity of the camera work is impeccable. The film has been shot beautifully from start to finish. There is no argument that Wes Anderson has created a visually stunning feast, but that isn't the only thing about this project that makes it exciting. Quirky, well-cast and delightfully scored, The Grand Budapest Hotel is a stylish riot with more underneath its polished surface than initially meets the eye.

The Lego Movie




It would have made all the sense in the world to be weary of The Lego Movie before it was actually released, but how were we to know that a 100-minute long advertisement could be this good?

We find ourselves in the Lego universe, where a construction worker named Emmet (voiced by Chris Pratt) lands in the middle of the quest to stop evil Lord Business (Will Ferrell) from using a superweapon called Kragle. A prophecy suggests that Emmet is 'the Special', despite the fact that everything about him seems to prove otherwise. Zany hijinks inevitably ensue. The result is smart, inventive, funny, silly, charming, touching and thoroughly enjoyable.

If there is a statement to be made about the value of fun, then The Lego Movies makes it very convincingly, and does so with much gusto (a characteristic it shares with the equally enjoyable Guardians of the Galaxy). The film is full of heart and clearly made with a lot of love. And it's the utter passion it displays and the exhilarating ride it takes us through that makes it one of the standout movies of the year.

Sameen Amer is a Lahore-based freelance writer and critic. She tweets @Sameen 

Published in The Express Tribune, Sunday Magazine, December 28th, 2014.