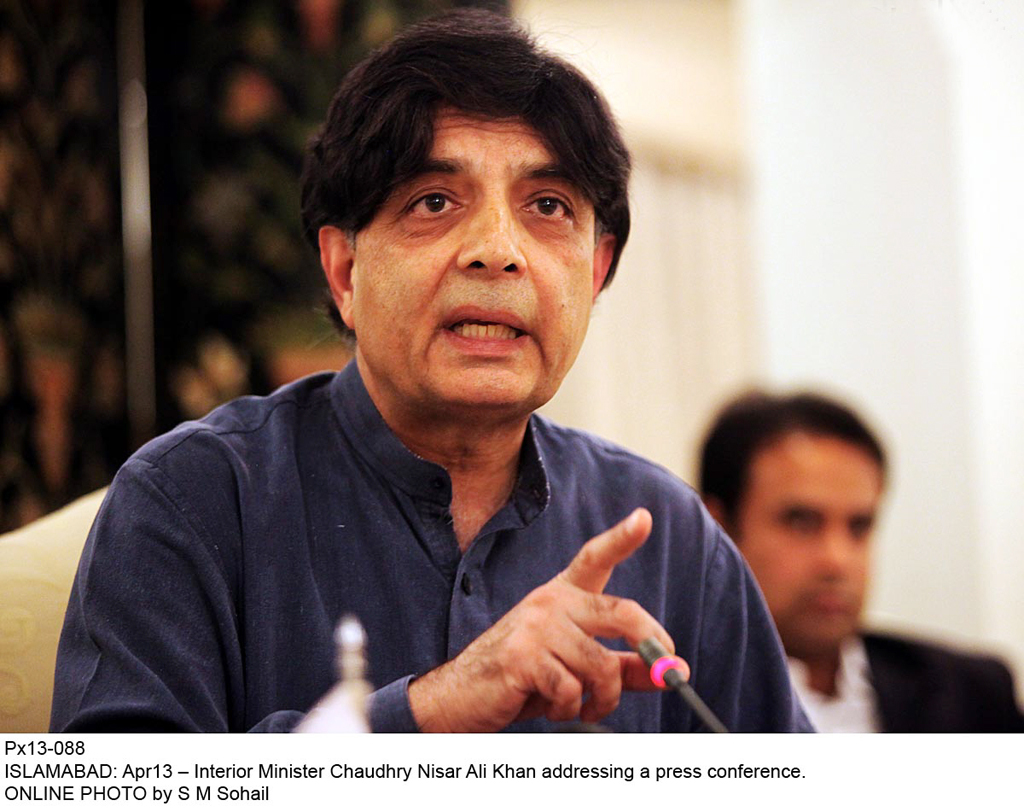 ---
ISLAMABAD: Dismissing Tehreek-e-Taliban Pakistan's reasoning for an attack at an army-run school in Peshawar which killed 148 people, inlcuding 132 children, Interior Minister Chaudhry Nisar said the Pakistan Army does not target children and families of militants.

"Pakistan Army has never targeted children and women," Nisar said, while addressing the media after a meeting with the committee drafting a national action plan to counter terrorism in Islamabad.

On December 16, militants stormed the Army Public School and Degree College on Warsak Road in the Cantonment area of Peshawar and killed 148 people. The banned TTP immediately claimed responsibility for the sickening attack. "We selected the army's school for the attack because the government is targeting our families and females," said TTP spokesman Muhammad Umar Khorasani.

Explaining the army's actions, Nisar said before a military offensive was launched against militants in North Waziristan and the Federally Administered Tribal Areas in June, army chief General Raheel Sharif and he had a mutual stance to ensure minimum to no collateral damage.

"If targeting civilians was our aim then we could have wiped out Miramshah where militants and citizens lived side by side with a couple of strikes. But we don't target non-combatants," the interior minister asserted.

Further, the interior minister said, "We are in a state of war."

He added supporters and sympathisers of militants live among us and it is an internal war.

"The militants look like us and they have sympathisers who live among us," he warned, adding, "Fighting terrorism for other countries was easier because the terrorists looked different -- they were foreigners."

Urging the nation to unite in taking an action against militants just as it has united in grief and condemnation of the incident, the interior minister said, "The army has been fighting against militants for some time now but the nation needs to stand up and join the fight."

The interior minister asked citizens to report any suspicious activity to the nearest police station.

Nisar also requested the media to 'black out' militants and not give them media coverage. He also warned hotel owners and landlords to rent out their property carefully and after proper investigation.

He also appealed to mosques and madrassahs to report suspicious people and warned mobile phone companies to issue SIM cards after scrutiny.

"The security of the nation is our top priority," he said.
COMMENTS (25)
Comments are moderated and generally will be posted if they are on-topic and not abusive.
For more information, please see our Comments FAQ