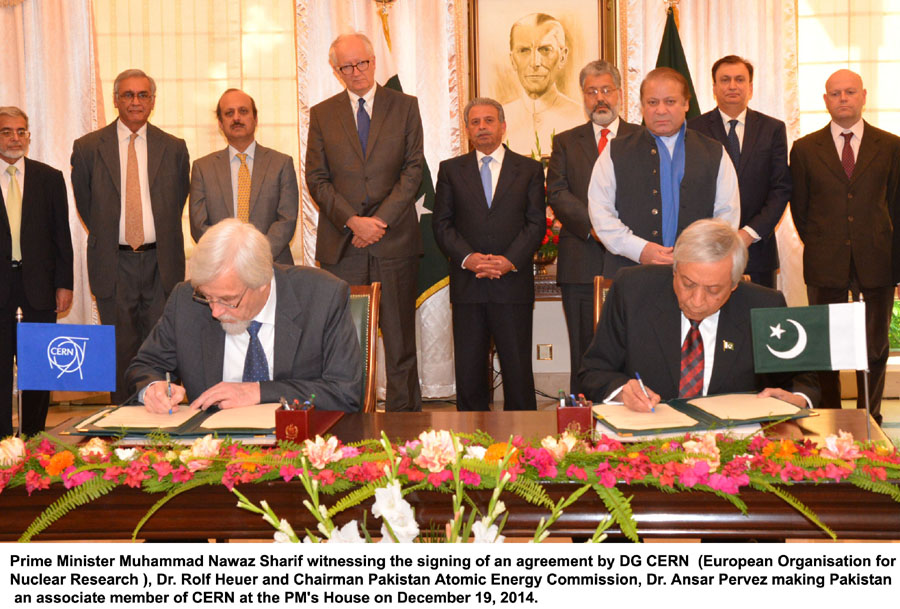 ---
ISLAMABAD: Pakistan on Friday formally became an associate member of CERN - European Organisation for Nuclear Research. This will provide Pakistani scientists and engineers an opportunity to benefit from scientific expertise at the prestigious institution.

Prime Minister Nawaz Sharif termed it a "landmark moment in the development of science in the country" as he witnessed, along with Director General of CERN Dr Rolf Heuer, the signing of the final accession document leading to CERN's associate membership at the Prime Minister's House.

The membership will help Pakistan in establishing a sustained and institutionalised relationship with CERN. Potential benefits include training of scientists, engineers and students, getting commercial contracts from CERN for local industry, acquiring of old and used equipment and provision of high profile international science projects.

Addressing the signing ceremony, PM Nawaz thanked the DG CERN and CERN Council for recognising the hard work and capabilities of Pakistani scientists, engineers and technicians, and for allowing Pakistan to become a part of the institution.

"Today's event is also a testimony to the fact that whenever provided an opportunity, the people of Pakistan are capable of standing up to any international standard," he said.

Nawaz urged Pakistani scientists not to limit the CERN associate membership as a goal, rather take it as a means to pursue and acquire new scientific and engineering knowledge.

He asked them to use the opportunity to interact closely with international community and gain expertise in science and technology.

The prime minister said the associate membership would also provide an opportunity to the country's industrialists and businessmen to participate in the construction and engineering work being carried out at CERN.

He expressed satisfaction that contribution and work of Pakistan Atomic Energy Commission (PAEC) and National Centre for Physics had been recognised by CERN, urging Pakistani entrepreneurs to get involved and take advantage of this opportunity.

The Pakistan-CERN collaboration, which started in 1994 with the signing of an agreement between Pakistan Atomic Energy Commission and CERN, has been growing steadily. Pakistan had applied for the CERN associate membership in February 2013.

By 2010, CERN membership was exclusively restricted to European countries. However, it is now open to non-European states as well.
COMMENTS (3)
Comments are moderated and generally will be posted if they are on-topic and not abusive.
For more information, please see our Comments FAQ