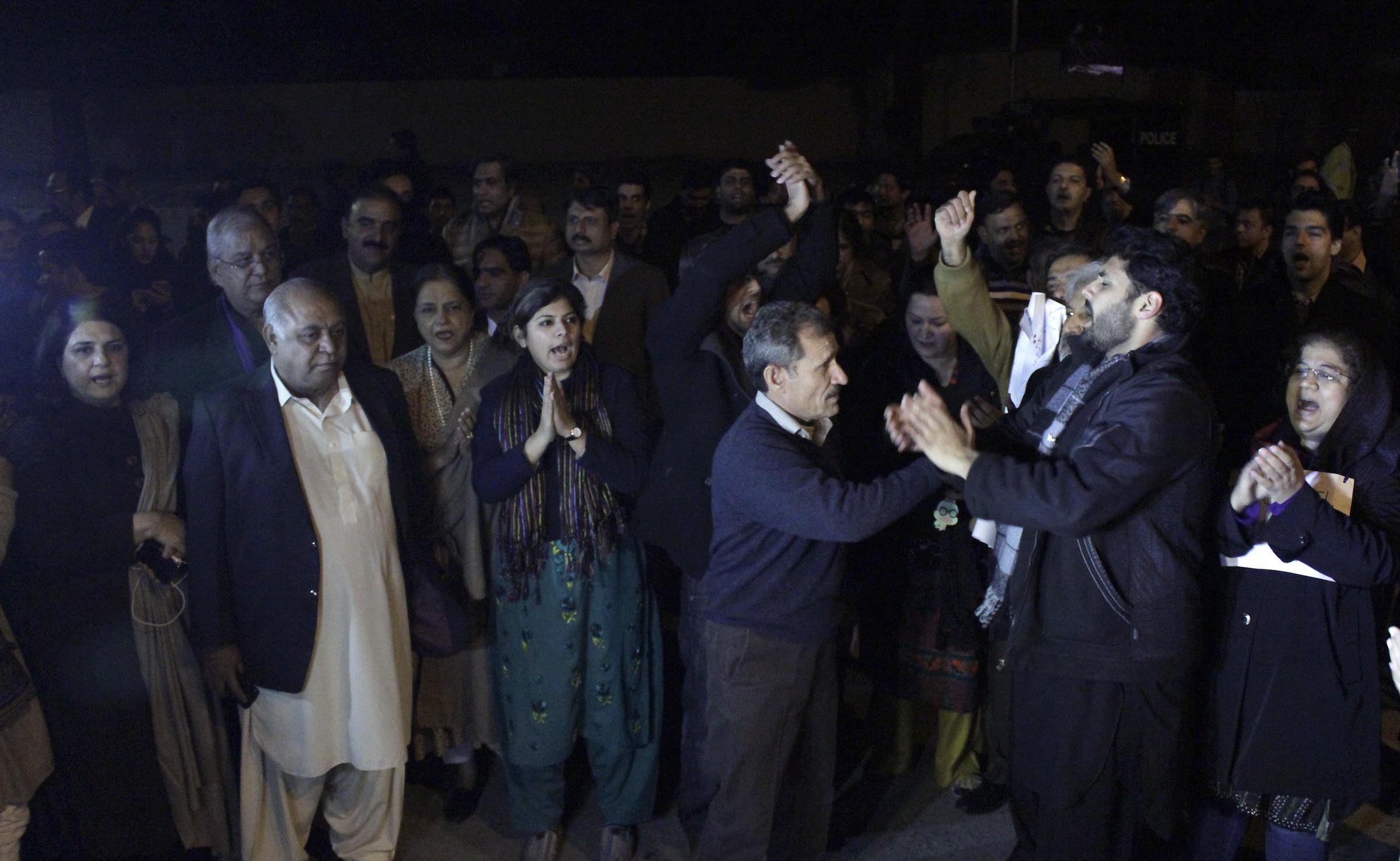 ---
ISLAMABAD: An FIR against Lal Masjid cleric Maulana Abdul Aziz was lodged at the Aabpara police station on Friday, three hours after protesters had gathered outside it.

The FIR was lodged under Section 506 (II) of the PPC, against criminal intimidation.


The FIR against Abdul Aziz filed by Civil Society under Section 506(2) The onus is on State now. We will #NeverForget pic.twitter.com/5GWkHY0gb0

— M. Jibran Nasir 🇵🇸 (@MJibranNasir) December 19, 2014


A large crowd had gathered outside Lal Masjid on Friday evening, following on from a similar vigil on Thursday evening. Soon they were joined by political leaders including Muttahida Qaumi Movement (MQM) Senator Tahir Hussain Mashadi, Pakistan Peoples Party's (PPP) Nafeesa Shah, Awami National Party's (ANP) Bushra Gohar and Acting President of National Party Senator Mir Hasil Bizenjo.

As the crowd outside Lal Masjid swelled, they moved towards the Aabpara police station. Officials stopped them from entering the station but an application for registering an FIR against Maulana Aziz was filed. The protesters camped outside the police station, refusing to disperse till the report was registered.

Heavy contingents of police, some in riot gear, were deployed outside the station to avoid any untoward incident.

Earlier on Friday, Nasir put forth his charter of demands and explained why he was leading protest.

Speaking to The Express Tribune, the independent candidate who contested elections from the NA-250 constituency claimed he is protesting to 'reclaim our mosques back from extremists.'

"Maulana Abdul Aziz lives in the heart of Islamabad and has been allowed to validate the extremist narrative for a decade now," Nasir said.

"We should never forget," Nasir urged sternly, adding, the sacrifices of Peshawar should never be erased from our memories and we should stand up and take action against the extremists.

Urging all arm-chair activists to stand up, Nasir said the blame lies on every citizen's head, "The children who were killed in Peshawar, you and I have killed them. When in Hangu, a suicide bomber was entering the school and Aitzaz Hasan saved them, did we not know students are on the hit-list of Taliban?"

Through a powerful video posted on his Facebook page, Nasir said the reason for the protest is simple and even if the police tries to cordon them off, they will not create violence but will not be stopped either.

"Our chants will be so loud, they'll be heard till Lal Masjid," he said.

Concluding his video, Nasir said, "We demand justice and request all political parties to stand up with us to send a message: We will not forget."

Seminary students also protest

After members of civil society had held a vigil outside Lal Masjid on Thursday evening, a large number of students from the seminary and its affiliate madrassas held a protest rally against civil society activists, as well as the Peshawar carnage after Friday prayers in Islamabad.

While addressing the charged gathering, Ahle Sunnat Wal Jamaat (ASWJ) spokesperson Maulana Abdul Rehman Moavia said that students of Lal Masjid had gathered to condemn the Peshawar attack but there is also the need for condemning drone attacks.

"We should also condemn Bajaur and Hangu drone attacks, which left 14 children dead," he said. "Why the people have not reprimanded Lal Masjid massacre in the same way, he asked.

He warned civil society members that if they tried to launch a protest in front of the mosque, they will have to face severe resistance from the students of the mosque.
COMMENTS (52)
Comments are moderated and generally will be posted if they are on-topic and not abusive.
For more information, please see our Comments FAQ