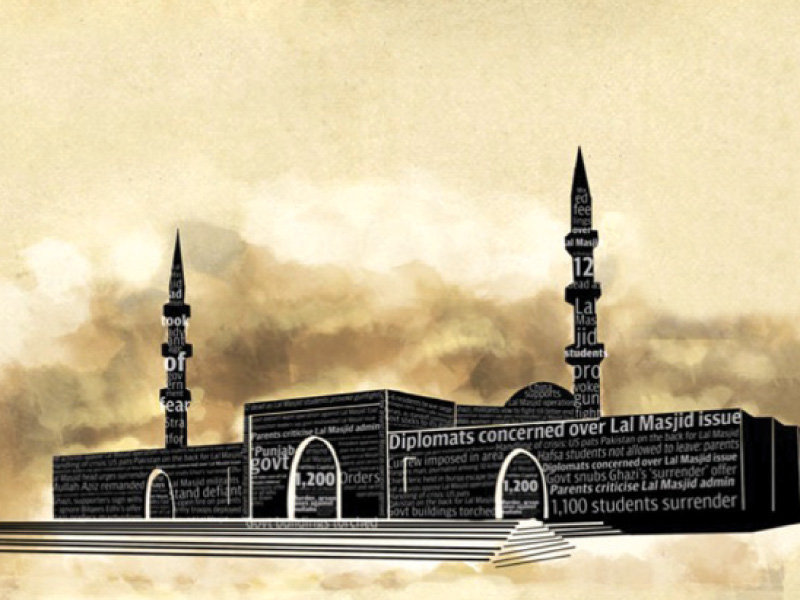 ---
ISLAMABAD: The chief cleric of Lal Masjid Maulana Abdul Aziz on Sunday made it clear that he respect Islamic State (IS) because of similarity in their missions and has no repentance over supporting IS.

Talking to The Express Tribune Aziz said though they have no direct link with the leadership of the IS, they have deliberated on this issue and decided to promote the mission and message of Daesh (IS).

Commenting on a video released on November 26 by the Jamia Hafsa students declaring their support for IS and its chief Abu Bakar al Baghdadi, the cleric said that the female students of Jamia Hafsa had prepared the video with his consent and they did not commit a crime by doing so.

Maulana revealed that the female students of his seminary wanted to take out a rally in support of the IS while carrying out banners and placards but he had stopped them from doing so. Justifying his students' action, Aziz said that the girls announced their support for IS only after losing hope in the country's political elite which remained silent when they had to suffer in the wake of the military operation against Lal Masjid and Jamia Hafsa in 2007.

Disowning a petition filed in the Islamabad High Court by Ihtesham Ahmad, trustee and spokesman of seminary's Shohada Foundation, Aziz said that he is not in favour of approaching the court to clarify that they are not affiliated with IS. "I also disown the petition filed by Shohada Foundation, a NGO affiliated with the mosque and girls' seminary—Jamia Hafsa—in the Islamabad High Court", Aziz said.

Responding to a question the cleric said, "I don't know why these boys are reluctant to say that we support the organization which wants to implement Islamic system".

"The foundation have no affiliation with Lal Mosque and Jamia Hafsa", Aziz disowned the foundation, which is busy in 'relief work' and pursuing cases related to 2007 military operation.

Alleging that authorities are contemplating to carry out a search operation to trace the girls who had prepared the video, Aziz warned, "I am warning the authorities to refrain from committing another misadventure under the garb of the video which is harmless and only expresses support for Baghdadi and his organization. Authorities will have to face the consequences if an operation is carried out against the students of the Jamia Hafsa."

A video in Arabic was released on November 26 by the Jamia Hafsa students declaring their support for the Islamic State and Baghdadi besides asking the Pakistani militants to join hands with IS fighters.

The principal of the seminary, Umme Hassan, reportedly endorsed this action, saying that the girls were justified in declaring support for the Islamic State, because no one came to their rescue when they were attacked and humiliated like enemies in July 2007.

Sahibzada Zubair Abul Kher, chief of Milli Yakjehti Council, an alliance of religious parties, in an interview to an online newspaper Islam Times claim that Daesh is behind sectarian violence in Pakistan, hence they we can not support it.
COMMENTS (6)
Comments are moderated and generally will be posted if they are on-topic and not abusive.
For more information, please see our Comments FAQ