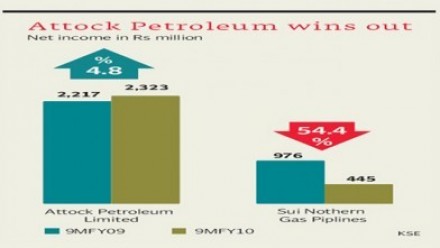 ---
KARACHI: The energy crisis has had an impact across the entire energy sector, but not all segments have been hit uniformly.

This was especially evident with Tuesday's earnings announcement with Attock Petroleum, an oil marketing company reporting a rise in profits whereas Sui Northern Gas Pipelines limited (SNGPL), a gas supplier, reported a fall in its net income. Sui Northern Gas Pipelines, the principal supplier of natural gas to domestic and industrial consumers in Punjab and Khyber Pakhtoonkhwa, saw its quarterly profits decline by 47% despite a 13% rise in its total revenues for the quarter ending March 31, 2010 compared to the same period over the previous year.

Net income was down by 54% for the first nine months of the fiscal year ending June 30, 2010 over last year. The difference in earnings is largely due to the rise in the gas development surcharge, a change that occurred as the result of the National Finance Commission Award. In addition, the International Monetary Fund (IMF) has been pressing the government to remove subsidies on energy, including gas, which occurred early in the quarter. This translated onto SNGPL's income statement in the form of higher revenues, despite the fact that the actual amount of gas sold remained roughly constant, at 439 billion cubic feet.

In contrast, Attock Petroleum saw its quarterly earnings increase by 11% to Rs834 million, comfortably beating analyst expectations. The rise in earnings came off an astonishing increase in total revenues, jumping by almost 76% from Rs13 billion to Rs24 billion during the first quarter of the calendar year 2010. For the first nine months of the fiscal year ending June 30, 2010 the company's earnings rose by almost 5% to Rs2.3 billion ($27.7 million). The firm's market share in the oil marketing industry rose from 5% to 5.5%, according to Atif Zafar, research analyst at JS Global Capital. While the company is much smaller than its rivals, Pakistan State Oil and Shell, it has several strengths that it has been able to capitalise on.

"The company has a diversified portfolio and faces a minimal impact from oil price volatility due to lower inventory levels," said Mr Zafar in a note issued to clients on Monday. Sui Northern Gas Pipelines closed at Rs33.01 on Tuesday, down by Rs0.14 or 0.42% in trading on the Karachi Stock Exchange. Attock Petroleum (KSE: APL) closed at Rs365, up by Rs0.47 or 0.13%.