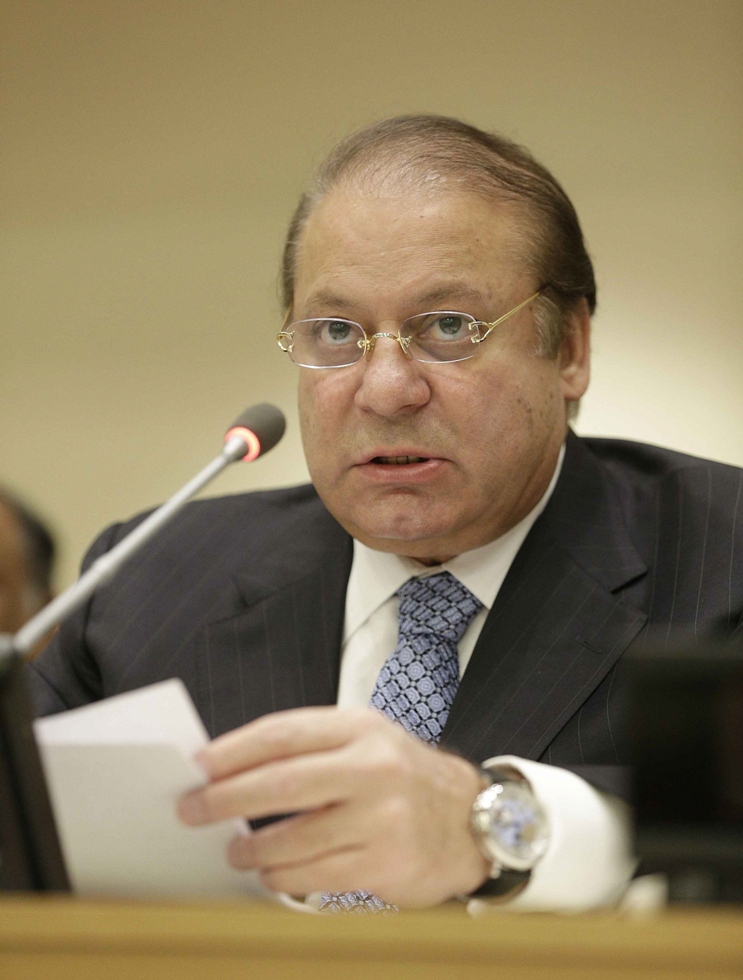 ---
LONDON: As Afghanistan's new leaders seek to build bridges with the West in a London moot, Prime Minister Nawaz Sharif will attend the conference to represent the views of Pakistan, Radio Pakistan reported. 

The London Conference on Afghanistan is not expected to deliver new cash pledges but will give a platform for President Ashraf Ghani and chief executive officer Abdullah Abdullah to outline their reform plans.

Attending at the invitation of British Prime Minister David Cameron, PM Nawaz will also address the conference today.

Adviser to the prime minister on National Security and Foreign Affairs, Sartaj Aziz will further represent Pakistan at the Ministerial Level Segment of the Conference holding thematic discussions regarding opportunities and challenges to greater regional cooperation in various areas.

Ghani and Abdullah struggle to bring peace while foreign combat forces withdraw after 13 years. This conference comes after the two formed a national unity government in September and as the US-led Nato force ends its combat mission amid a spike in Taliban attacks against international targets in Kabul.

Ghani and Abdullah will be joined by other prominent figures including US Secretary of State John Kerry and Cameron.

The one-day event "gives an opportunity for the US and other international partners to reinforce that we remain committed partners to Afghanistan," Daniel Feldman, the US's special representative for Afghanistan and Pakistan, told reporters this week.

"But probably most importantly, it's an opportunity for President Ghani and Dr Abdullah to outline their vision for Afghanistan's economic, social and political future."

Despite pouring billions of dollars into supporting Afghanistan after the Taliban regime was toppled in 2001, the international community had a fraught relationship with Ghani's predecessor, Hamid Karzai.

Many diplomats are now hoping to reset relations under the former World Bank economist.

The international combat mission, which peaked at 130,000 troops in 2010, winds down at the end of this year but some 12,500 Nato troops, mainly American, will stay on for several years to train and advise Afghan forces.

President Barack Obama had pledged that the US combat mission in Afghanistan would end this year but officials said last month that US forces would still be able to help Afghan troops and police fight the Taliban in certain circumstances.

The US has also been filling in temporarily for a shortage of roughly 400 to 700 Nato troops through the winter months of 2015, officials said.

As international troops reduced and Western frustration with Karzai mounted, aid levels to Afghanistan have fallen in recent years.

Another aim of the conference is therefore to ensure that donor countries honour pledges made at a previous conference in Tokyo in 2012.

"It feels as if some of the sympathy that was lost over the past years may be creeping back into the world's hearts," Christine Roehrs of the Kabul-based Afghanistan Analysts Network wrote this week.

She added that if Ghani can form a cabinet and deliver concrete reforms relatively quickly, "the good will might hold."

Ahead of the conference, Amnesty International and Human Rights Watch urged donor countries to stress the importance of rights for Afghan women and a string of other human rights issues.

"The London Conference is a crucial moment in determining whether the new Afghan government will take concrete steps to end human rights abuses, and whether donors have the will to stay involved in defending the rights of Afghans beyond 2014," said Brad Adams, Asia director at Human Rights Watch.

"Without international pressure and aid specifically targeted at ending rights abuses, many of the gains of the last 13 years could easily slip away."

On the sideline of the conference, the premier will also hold bilateral meetings with British Home Secretary Theresa May, British International Development Secretary Justine Greening and US Secretary of State John Kerry.
COMMENTS (1)
Comments are moderated and generally will be posted if they are on-topic and not abusive.
For more information, please see our Comments FAQ