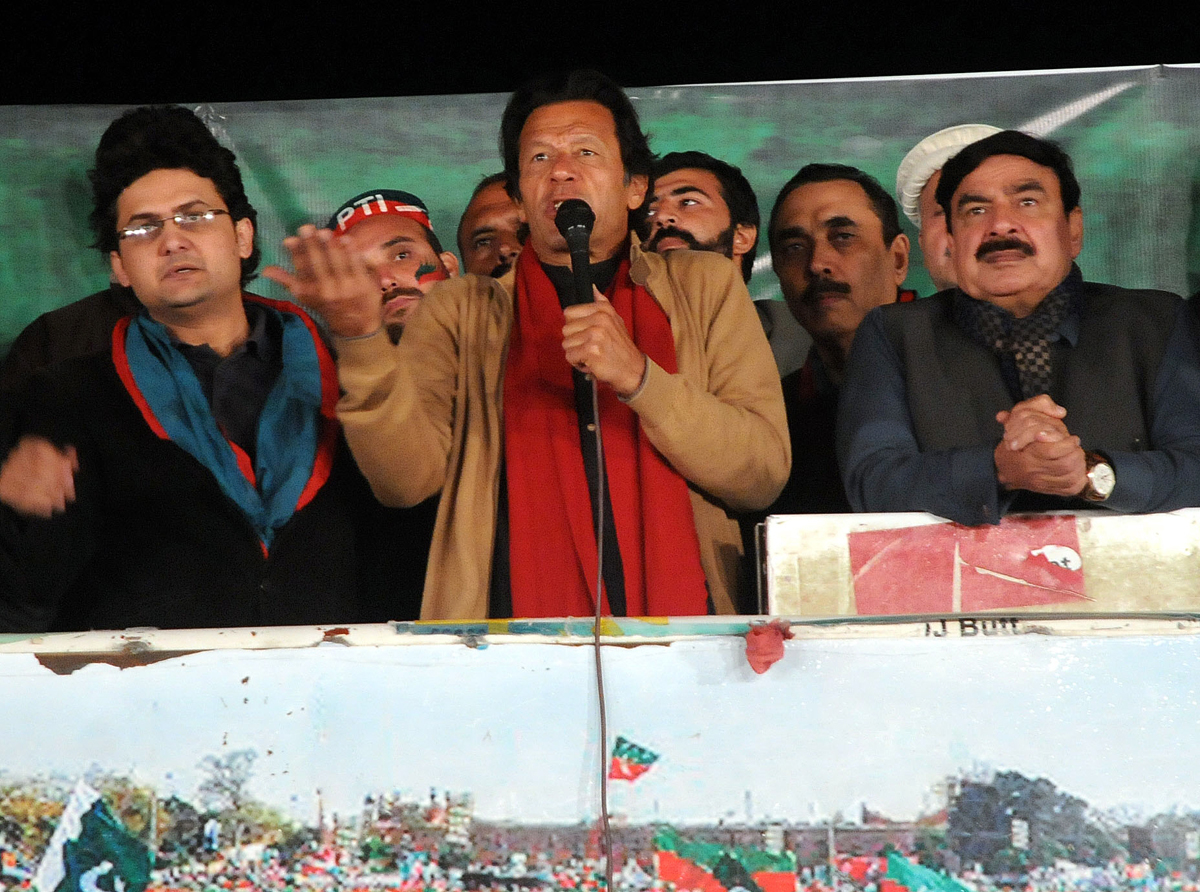 ---
ISLAMABAD:

A day after showing some flexibility, Pakistan Tehreek-e-Insaf (PTI) chairman Imran Khan on Wednesday made it clear that his party will not change its 'Plan C' unless the proposed judicial commission starts investigating the alleged massive rigging in the 2013 general elections.


"We will not end our sit-in until justice is served… we won't drop 'Plan C' unless the judicial commission starts working," Imran told supporters at D-Chowk. The statement came a day after PTI Vice Chairman Shah Mehmood Qureshi offered the government a quid pro quo: revive stalled negotiations by Dec 6 and the PTI will reconsider its plans to shut down Faisalabad on Dec 8.

Addressing PTI activists and supporters at D-Chowk, Imran censured Prime Minister Nawaz over his ongoing UK trip and criticised Punjab Chief Minister Shahbaz Sharif for taking a federal minister with him on an official tour to Qatar.

He accused the government of corruption in an LNG deal with Qatar but claimed that Pakistan's ranking on Transparency International's Corruption Perception Index had improved because the rulers and officials were afraid of the PTI.




Jamaat-e-Islami (JI) Ameer Sirajul Haq, who had been mediating between the government and the PTI when the talks hit a deadlock in September, hoped that the political impasse would end soon.

However, Haq also expressed his inability to ask the PTI to withdraw its nationwide shutdown call.

"The government has not yet come to the negotiating table, so how can I ask the PTI to withdraw its call for countrywide shutdown?" he said while speaking to the media after a one-on-one meeting with Imran Khan at the latter's residence in Bani Gala, on the edge of Islamabad.

He said that holding a political rally was a democratic right of every party and the PTI was protesting in order to press the government to accept its demands. Haq added that the government was also holding political rallies, which was something good as people got a chance to scrutinise and study their leaders.

"I am hopeful and have never lost hope that both sides will resume talks and resolve issues as per the aspirations of the people instead of taking them up in streets," he said, referring to the street agitation.

The JI chief said the government should take the lead and approach the PTI for resumption of talks. In Haq's opinion, being in the government means more responsibility. "The talks would be successful as both the parties have the desire and willingness to resolve issues through dialogue," he added.

Published in The Express Tribune, December 4th, 2014.
COMMENTS (2)
Comments are moderated and generally will be posted if they are on-topic and not abusive.
For more information, please see our Comments FAQ