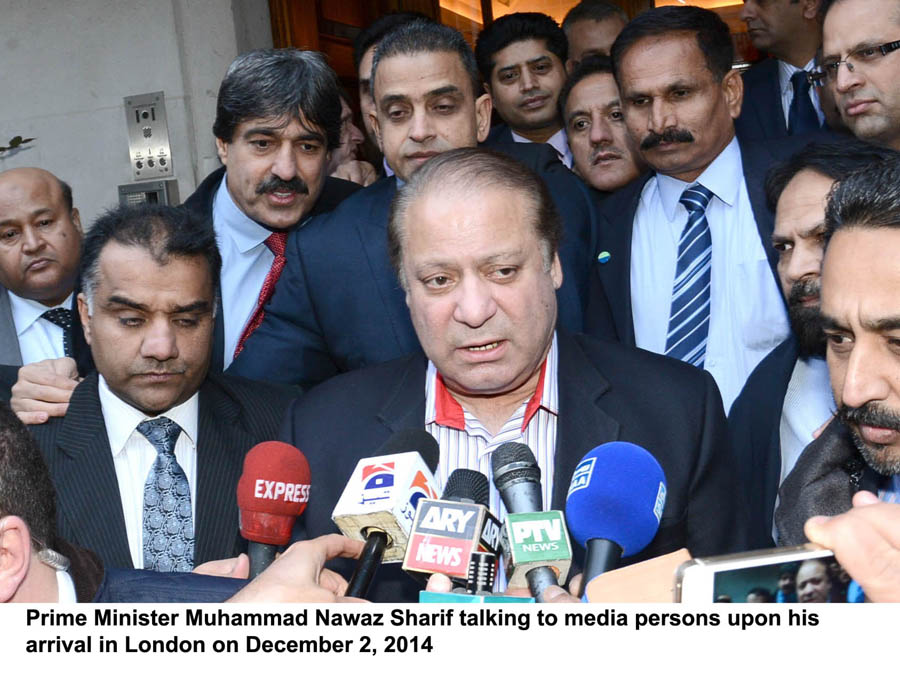 ---
LONDON/ ISLAMABAD:



Prime Minister Nawaz Sharif said on Tuesday that he, as leader of the house, and the leader of the opposition were creating an ideal democratic rapport by consulting on all vital issues leaving behind the politics of the 1990s dominated by political vendetta.




"Re-enactment of the abhorring political game reminiscent of the 1990s by certain political leaders is unfortunate," the prime minister told journalists after arriving in London where he will attend an international conference on Afghanistan.

To a question, Nawaz said he and the leader of the opposition, Khurshid Shah, were consulting positively over the appointment of a new chief election commissioner. However, he added that the government was trying to perform better on many fronts.

About the possibility of resuming negotiations with the Pakistan Tahreek-e-Insaf (PTI), Premier Nawaz said the ruling party strongly believed in settling issues through talks. "We are a democratic people. Negotiations should be constructive. If they want to talk, we would have no objection," he added.

PTI chairman Imran Khan on Sunday threatened closure of major cities, leading to the shutdown of the entire country after mid-December. Referring to Imran's threat, the premier said that these were unfortunate. He also rejected certain reports about his proposed meeting with Imran, saying that the PTI chief had a misunderstanding.

About the London Conference on Afghanistan, the premier said it was a continuity of the understanding developed between him and Afghan President Ashraf Ghani who visited Islamabad last month.

In Islamabad, the foreign ministry said the prime minister travelled to the United Kingdom on the invitation of his British counterpart David Cameron, who is co-hosting the conference with President Ghani.

The conference is scheduled to take place on December 3 and 4. The two-day event – to be attended by major international players, including US Secretary of State John Kerry – comes ahead of the drawdown of foreign forces from Afghanistan.

Afghan and international officials say the new president would unveil a programme to reduce corruption, increase government revenue and raise official accountability.

Foreign ministry spokesperson Tasnim Aslam said the prime minister's participation in the conference was a reflection of the importance that Pakistan attached to international efforts for peace, stability and economic development in Afghanistan.

"Pakistan has consistently underscored the imperative of deeper engagement of the international community with Afghanistan on the economic plain to reinforce the efforts for peace and stability," she added.

During the visit, the prime minister will also have bilateral interaction with the British administration and will hold meeting with World Bank officials. He will also hold bilateral meeting with US Secretary of State John Kerry.

Published in The Express Tribune, December 3rd, 2014.
COMMENTS (14)
Comments are moderated and generally will be posted if they are on-topic and not abusive.
For more information, please see our Comments FAQ