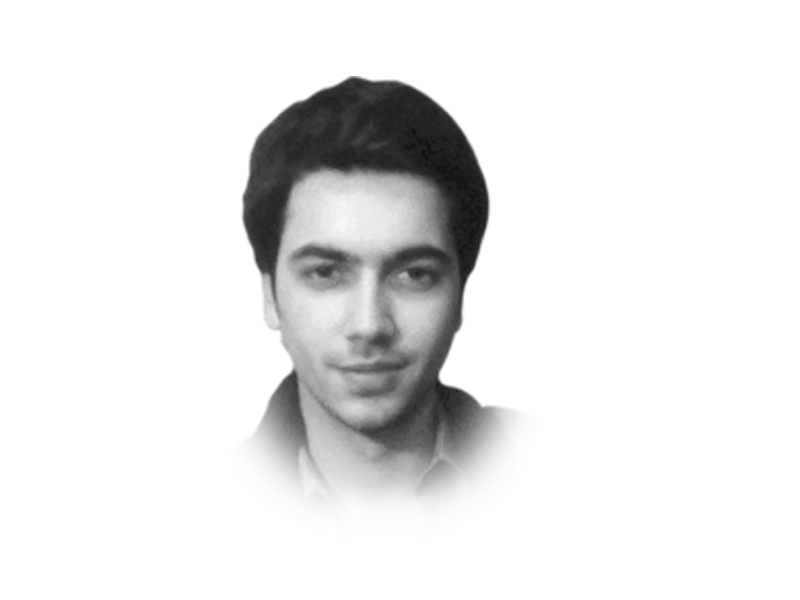 ---
It was going to be heavy, whatever it was. It even had a hashtag.

#FinalFight, they said. Barho ke manzil qareeb hai ab, they said. The Movement for Justice Party's movement for justice came to a climax on the 30th of November… until the next climax, slated for the middle of December.

Imran Khan's had it, Imran Khan said: enough is enough, and it's time for a change. The votes were stuffed, the ballots were bought, and the ROs were in on it. Mr Khan went to court, and the court sat on its hands. Now to the court of public opinion.

Which is what the plan is: shutting down the country till House Sharif caves. "Main poora mulk bandd ker doon ga," roared Mr Khan. Hardly a plan… but then, Plan Cs rarely are.

Such was the energy, the Other Opposition made its own bid for glory. While the PTI thundered against Nawaz Sharif in Islamabad, Asif Zardari giggled and shrugged in Lahore. At least the PM's better than martial law, purred Mr Zardari, as PPP Punjab went green in the face. Marking the day men like J A Rahim started the party, PPP Foundation Day 2014 was instead scored by hooting and hissing against Jahangir Badar.

Yes, sad though it is, the PPP's as relevant as the VCR these days. The Party needs to understand what Mohtarma Benazir figured out as early as her Barbican years: it's time to pull the plug on the Party's creepy old uncles. Left to them, the death of the left is already here.

The hard-right, however, is alive and kicking. The JUI-F was out and angry on the 30th, torching tyres in Quetta and breaking things in Peshawar. And that, perhaps, tells us all we need to know.

While the press has already forgotten, two gunmen opened fire in a mosque in Sukkur last Saturday, and shot dead Dr Khalid Soomro. The JUI's secretary general for Sindh, Dr Soomro was a humble man and a good man. His death was greeted by stony silence from our English papers, and the usual thuggery by the JUI.

Said Maulana Fazlur Rehman, "If people can hold rallies, then protesting over murder is our right." Why Maulana Fazl conflated D-Chowk rallies with the vicious murder of his secretary general, may never be known. But he can't be blamed for what the rest of the country is complicit in.

The trouble with dharna world is basic: we've lost sight of all else. None of the JUI-F murders have been solved, nor have the ANP leadership's killers, the most ferocious in memory, been brought to justice.

Constant dharnas — coupled with a perpetually absent federal government — means we don't care about such things either. There is a terrifying number of things that required doing in this country yesterday; we may be the last place on earth that hosts polio; the PM's 'eradication deadline' will come and go. We may be the only hell where Christian citizens are burned alive in brick kilns; Justice Jillani's judgment reshaping minority rights will go unimplemented. We may be the only state in history in the middle of a massive war in the north, with no narrative to sustain it.

The national conversation has been reduced to two gents from Lahore — Mr Sharif and Mr Khan — and whether the PM is going or gone. Might it be prudent to move on?

The fact is this: these elections were rigged. They were rigged in every province and every major city, according to every major party, including the PML-N. Yes, there are FAFEN reports and video footage and voter testimony, for and against, but let's face it: while not as riotously rigged as the PTI says they were, to call 2013's elections clean is an insult to reason.

Mr Khan's climb-down from his initial stand, i.e., Go Nawaz Go, is an opportunity the government must seize, and call the electoral probe. Dharnas mean being frozen in time — December dharnas literally so.

Yes, Mr Khan has misstepped hard, from disagreeing over a gentleman with outstanding integrity as Chief Election Commissioner, to vowing to shut down the country on a date best known for this country's most shameful moral legacy. Most important: an average strike day costs a city like Karachi Rs3.15 billion… at least according to the Chairman of All Karachi Tajir Ittehad.

Once again though, Mr Sharif has no one else to blame but himself. His government has been a wreck: a weird mix of fear and complacency. It's his right to stay in office till the probe concludes. But by that same right, he should resign over the Model Town murders until exonerated.

To conclude on a lighter note, let's hope — in vain — that Plan C is the last hurrah in the dharna series. As it is, the biggest casualty has been the quality of our discourse.

Writing in another paper, Mr Irfan Husain said he'd started his superb column in 1992. Feedback over 22 years was mostly polite until the past few months, as rivers of abuse poured into his inbox — from the PTI. To his great credit, Mr Husain said he had "no problem with a robust exchange", but lamented the loss of civility.

Some of it is karma: the Muslim Leagues have long played the game petty and personal. It was the IJI that airdropped pamphlets of Gerald Ford dancing with Pakistan's former First Lady; the IJI's legal heirs are now flooded with JPEGs of ministerial misdeeds from the PTI. It's unsettling besides: in the age of Abid Sher Alis, one wishes the discussion were shaped by Ahsan Iqbals.

Some, of course, would rather the drama. Richard Nixon, a man born to fight in the mud, once wrote, "With all of the talk about the need for consensus and conducting campaigns in a gentlemanly fashion, it is important to remember that it serves the public interest for the candidates to hit hard on the issues so that the voters have a clear choice. Real differences should be exposed and emphasised, not glossed over."

That thinking helped Nixon become the definitive Republican of the past half-century — it also meant America became a snake pit by the time he staggered out.

'Hitting hard' in perpetuity may be too much of a good thing. 107 days into this dharna, it's time we lowered our voices. There's a lot to do. 

Published in The Express Tribune, December 2nd, 2014.

Like Opinion & Editorial on Facebook, follow @ETOpEd on Twitter to receive all updates on all our daily pieces.