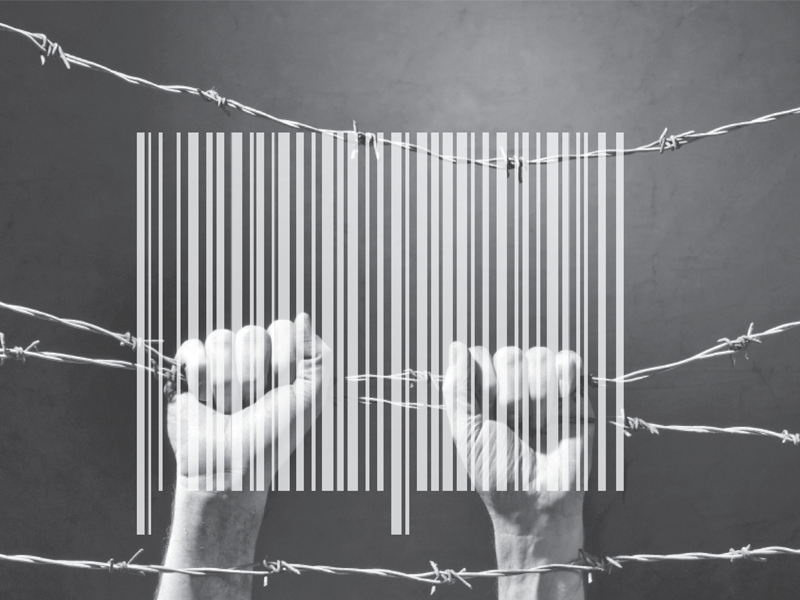 ---
Fourteen-year-old Kanwal Shah, a Pashtun girl living in the northwest region of Khyber-Pakhtunkhwa (K-P), was walking home from school one day when she was hit on the head by a couple of unknown men. When she woke up next, she found herself at a brothel in the remote southeastern town of Khanpur. "I didn't know what had happened to me or where I was," shares Kanwal. "When the drugs wore off, they told me I was to be a prostitute." When Kanwal refused to comply, the brothel owner Ajmal Hussain resorted to torture, sexual abuse and use of drugs to get his way. According to Kanwal she was held hostage for six years, during which the girls at the brothel were forced to sleep naked so that they would be 'dishonored' and, thus, forced to stay there. Two of the girls, Jahanara Bibi and Qudsia Mir, were killed, when they adamantly refused to sleep with customers.

Kanwal, however, was one of the lucky ones and got an opportunity to escape, with the help of Ahsanullah Rahim, a worker at the brothel. The two got married soon after, which complicated the situation further as Ajmal claimed that she was already married to him. Initially, Pakistani authorities charged Kanwal with adultery and were keen on having her returned to the brothel. The courts, however, eventually issued a restraining order against the brothel owner and Kanwal was sent to Darul Aman, a shelter for women in Lahore.




Kanwal's tragedy mirrors the plight of thousands of young girls and women in Pakistan who fall victim to human trafficking every year. According to the United Nations Regional Information Centre for Western Europe (UNRIC), human trafficking is often quoted as the third most lucrative source of organised crime revenue in the world after arms and drugs trade. According to the United Nations Global Initiative to Fight Human Trafficking, the exploitation of all trafficked forced labour results in an estimated annual global profit of $31.6 billion. Southeast Asia and South Asia house the greatest number of internationally trafficked people — an estimated 2.5 million and 1.5 million, respectively. According to the 2012 'Global Report on Trafficking in Persons', released by the United Nations Office on Drugs and Crime, victims of 136 different nationalities were detected in 118 countries worldwide between 2007 and 2010.




Trafficking victims are used for domestic service, bonded labour, prostitution, as camel jockeys and as beggars by begging mafias. In some cases, they are also smuggled off to conflict-ridden areas such as K-P, where they are used for militancy. This was the case with seven-year-old Affan, who was kidnapped by his madrassah teacher in Gujranwala and transported to a village in K-P. Here, he was shown his first weapon and also given extensive training on suicide missions. "I was scared that one day I would be killed in a suicide attack and my family would never even know what happened to me," says Affan. "I always prayed for a miracle." Even though he was rescued by one of his uncles 25 days later, the family had to relocate in order to avoid being found or killed at the hands of extremists. Affan was fortunate enough to live to tell his story but there are many others who spend their entire lives in the hope of being rescued and to return to their loved ones someday. "When I escaped, I was very thankful but felt guilty over leaving behind so many of my peers who hadn't been rescued like me," he says. 

The ugly numbers

Pakistan has been identified as one of the key sources of women trafficking globally. According to the 'Global Slavery Index' report compiled by the Australia-based campaign Walk-Free, Pakistan has the third highest population of enslaved individuals in the world. A recent report released by the US State Department highlights that Pakistan may join the Tier 2 Watchlist for Human Trafficking, as it has not undertaken satisfactory measures to combat the issue. If that happens, the country may face suspension of financial aid amongst losing other privileges. Currently, Pakistan is also facing challenges in implementing the Trafficking Victims Protection Act (TVPA), a critical anti-trafficking law which requires coordination with foreign governments to prevent trafficking and protect victims.




According to the Federal Investigation Agency (FIA)'s Red Book, the number of 'most-wanted' human trafficking networks from Pakistan was 141 last year, 132 in 2012 and 95 in 2011. The majority of these human traffickers belonged to Gujrat and Gujranwala, while the rest were from Sialkot, Rawalpindi, Mandi Bahauddin, Sialkot and Azad Jammu and Kashmir. This network of 141 human traffickers encompasses over 7,890 individuals, who illegally transported 8,234 Pakistanis through various routes to the Middle East, European and African countries last year. The FIA has also intercepted over 61,200 people at the Pakistan-Iran and Pakistan-Afghanistan borders since 2009. The most common routes used by traffickers include Gulistan, Chaman, Rabat, Nushki, Chagai, Mand Ballu, Panjgur, Taftan and Turbat.

When humans are bought and sold

The wide prevalence of human trafficking in Pakistan can be attributed to a number of factors, with poverty being the key cause. Since nearly 23% of the country's population lives below the poverty line, it automatically makes them keen to accept any employment opportunity and hence, become easy targets for traffickers. This has been witnessed in a vast majority of cases for both labour and sex trafficking, where the victim is lured with false promises of employment and better economic prospects. Social inequalities and gender-based injustice (particularly towards women and children), early marriages and domestic violence also lead to economic dependency and vulnerability. In many situations, women attempt to escape such situations by seeking employment opportunities, but end up subjecting themselves to even worse consequences.




The situation is aggravated further due to the country's porous borders and huge lapses in the law and order system. Advancements in technology have also made it easier for traffickers to communicate and coordinate across borders and carry out their operations in a more systematic manner.

Scarred for life

The physical and psychological torture of trafficking victims results in serious medical and emotional trauma. For example, malnutrition and starvation can lead to serious weight loss, as in Affan's case, who lost 4kgs in 25 days. Other common injuries include broken bones, concussions and burns. Victims of labour trafficking often experience visual and hearing problems due to working in hazardous agriculture or construction environments. In some cases, proximity to chemicals can also lead to respiratory and skin-related disorders. Women, in particular, suffer from reproductive health issues due to sexual assault and may even end up with sexually transmitted diseases.




Psychological scars of these experiences, however, are perhaps more long-lasting than the physical suffering. Victims of trafficking experience feelings of helplessness, guilt, self-blame, shame, humiliation, depression and post-traumatic stress disorder. In some cases, victims also resort to substance abuse to curb their depression which exacerbates the problem. "I would forget the humiliation, the disgrace and the torture I had suffered after I would take the drug," says 17-year-ol Aasiya, who was kidnapped from her neighbourhood by a Sahiwal-based trafficking group. She was then tortured and gang-raped and tossed into a room with four other girls. It was during this time that Aasiya turned to drugs in order to numb her senses. "But when the effect of the drug wore off after a few hours, I would once again realise that my life was over before it had even begun," she says.




At times, trafficking victims also experience the 'flat effect', a sense of numbness and detachment and a disassociation from the physical and emotional trauma. In rare cases, they may also suffer from 'trauma bonding' and begin to identify with the trafficker, despite being subjected to repeated abuse. This can potentially be the most dangerous outcome.

Victims to survivors: A long way home

While Pakistan has taken certain interventionist measures over time to curb human trafficking, a lot more needs to be done. According to Dr Ali Khan, associate professor and chairperson for the department of humanities and social sciences at the Lahore University of Management Sciences (LUMS), the aspects that require immediate attention are awareness and prevention of trafficking along with rehabilitation of those who have returned home. "The journey from victim to survivor is perhaps the most critical," says Khan. "Hence restoring dignity, security and respect for victims through a structured support system including shelters, rehabilitation units and counselling are the need of the hour."




The government currently runs approximately 44 shelters for rehabilitating women including various Darul Amans. Organisations such as the Human Rights Commission of Pakistan, Lawyers for Human Rights and Legal Aid, Ansar Burney Trust, Sahil, Rozan, Aurat Foundation, Shirkat Gah and Madadgar have also been working actively to combat the practice and help out those who have gone through the ordeal. International organisations such as the USAID, The Canadian International Development Agency, The Department for International Development, United Nations Development Program and The European Commission have also played an important role by launching several advocacy and capacity-building programmes in the country. "The United States works through international organisations and directly with the government of Pakistan to improve law enforcement's capacity to prevent, detect and prosecute human trafficking," shares an official at the US Consulate in Karachi. He elaborates that this year's report on human trafficking shows that the government of Pakistan does not fully comply with the minimum standards for the elimination of the practise but is making significant efforts to do so.

"Whilst efforts are underway in Pakistan, they are currently occurring in silos," says Khan. He emphasises the need for formulating and implementing synergised policies in order to maximise collective impact. Protecting victims' rights, pursuing traffickers through gathering data wherever they may operate and restoring the freedom of survivors should be a priority, he adds. Professor Farkhanda Aurangzeb, director coordination at the Aurat Foundation, also emphasises the need to improve methods of detecting victims,change the mindset of law enforcement agencies and convict the perpetrators of this heinous crime with exemplary punishment.

Finally, in order to make any meaningful long-lasting difference to the current state of affairs, those unaffected by the issue need to be as motivated to change things as the direct stakeholders since silence around injustice, cruelty and abuse of power is as criminal as the offence itself.

*Names have been changed to protect privacy of individuals.


Saba Karim has read anthropology from the University of Oxford. She tweets@SabaKarim


Published in The Express Tribune, Sunday Magazine, November 2nd, 2014.