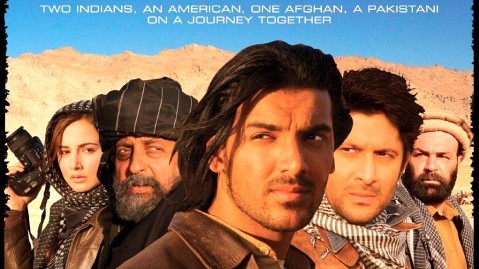 ---
KARACHI: A love for Bollywood films is shared on both sides of the Durand Line.

Could Afghanistan be the next market for Indian films to be officially distributed in the country? No matter where in the world you are, if you're a desi, there is a chance someone associates you with Amitabh Bachchan. That is the impact that Bollywood has around the world. Across the border in Afghanistan, Indian films have continued to be popular through the decades, despite years of civil war and foreign invasions.

As director Kabir Khan, who shot his 2006 film Kabul Express in the country, told the Indo-Asian News Service (IANS), "People in Afghanistan will kill for a Hindi film. They watch nothing but Hindi films. People there have learned to speak Hindi only by watching Hindi movies and Afghans will give their life for Hindi cinema." While the screening of Indian fllms in Pakistan was legalised only a few years ago, Afghanistan's main source of the latest Shah Rukh Khan film comes from pirated prints smuggled into the country. Even though several films have been shot in Afghanistan, including the abysmal Khuda Gawah (1992), it does not register on the Bollywood distribution map as yet.

"Despite people's craze for Hindi movies, the Bollywood market is 'next to nil' in Afghanistan," Sunny Khanna, a senior vice-president at Balaji Motion Pictures told IANS. "In the last four to five years, no movie has had an official theatrical release there unless someone bought the satellite rights (for TV)." "No movie (from India) goes to Afghanistan. There is no distributor or Bollywood representative who will release a movie there. It is very rare that a movie goes there or we are approached by them."

Indian films are usually shown on Afghan TV channels.

Afghan's media landscape has transformed over the past few years, and the country now boasts about a half-dozen television channels. Local spin-offs of popular television shows such as "America's Next Top Model" and "American Idol" have found a niche market in the country.

However television channels have run into issues with the government and now have to employ censors who 'pixilate' any content that people would find objectionable. While reality television has taken off in Afghanistan, alternative forms of music have become popular. The guitarist for the rock band Kabul Dreams told the BBC in January, "Playing rock music is a risk but we want to play in Afghanistan". Kabul Dreams said that in the absence of a local music scene, young Afghans listen to music from India and Pakistan. Haniya Aslam (of the Pakistani band Zeb and Haniya) was told by Afghan friends that the duo's Dari song "Paimona Bitte" from their 2008 album Chup had become a huge hit across the border.

Last week, the Xinhua news agency reported that 17 cinemas existed in Kabul before the Taliban took over the country. Along with Indian cinema, Pashto films and telefilms are very popular in Afghanistan. Afghan investors have also commissioned Pashto filmmakers based in Khyber Pakhtunkhwa to make telefilms that can be sold via DVD.