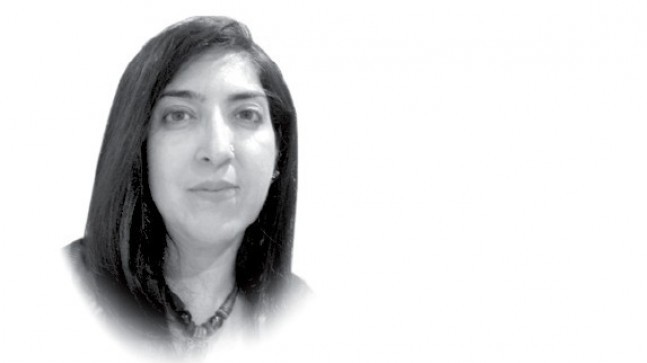 ---
You had a stand-up comedian in your midst and you did not even notice him. The beauty of Jaswant Singh is that he is so subtle, he makes a snake look like a rope and even manages a rope trick or two.

Why did he tell Pakistanis that the Quaid-i-Azam was secular when they have to mention their religion in most documents? Transforming Jinnah into a sound-byte was perfect timing. He threw a pebble in the puddle and asked you to see yourselves in it. On the other hand, Shashi Tharoor is less ambitious.

All he does is use his fingers to type 140 characters to announce to the tweeting world that visa rules must be relaxed because not everyone is a terrorist, knowing well that such a comment is patronising. The two gentlemen might appear as different as chalk and cheese in demeanour and politics, but scratch the surface and you'll get more surface.

You will find no ideology. There is product placement. Let us delve deeper. How many people have bothered to think about why Jaswant Singh stayed for years in a party whose manifesto right from the start has been to construct a good temple for the nation to pray in? He gave the spiel about his hands being tied.

It was, in fact, perfect synchronisation and chances are that he was responsible for his own martyrdom. The BJP asked him to quit. The RSS, known to be the big boss, made it easy for him. They issued a diktat to infuse fresh blood. The main motive was to ensure that L K Advani was out and Modi became lord of the inner ring.

Jaswant would remain the preserved heritage site. After cribbing, "I am being treated like Ravana" (the epic demon king), he let his son contest and win elections for the same party and walked into the Sialkot sunset as a knight in shining armour. He chose to appeal to the larger enemy to lessen the heat on the lesser enemy.

Now he has got together with a band of boys, former Pakistani and Indian leaders, and this consortium of 'collective wisdom' plans to find solutions to the Kashmir and water-sharing issues. This is seriously funny. Is the honourable Rajput of old Mughal courts or Birbal trying his smart act?

Tharoor's honour rests on pretending to be the outsider who wants to change the way things work, when he does not even know how they work. As minister of state for external affairs he had nothing important to say about attacks on Indians in Australia or about immigrant issues in Britain.

He represents the complete disregard for diplomacy by making the right noises where action is needed. The social networking is not a device to connect him to the citizens but to get 'followers.' It is a form of westernised feudalism. As an imported denizen from the grand UN, he thinks he is breaking the rules and shunning the typical.

What he has actually done is exposed the face of the dumbed-down politician with a 'just back from the sauna look in my open pores' facile frankness. It is the deception of form that is disturbing. Both these men are the management gurus of politics. They appear to operate on their own terms when in reality they have their corporate images in place.

It works well with a segment of Indian society for whom facets are only a measure to rate diamonds with. Criticism is a mere tinkle of glasses and a huddle of whispers. Nuances are unexplored. Tharoor's squeaky clean image has got a bit muddied, but that won't affect him.

Suddenly, the prodigal became the man who had something to hide. It was a closet crucifixion. He may be a loser in the battle for stakes but, as with Singh, his trickery is the treat.
COMMENTS
Comments are moderated and generally will be posted if they are on-topic and not abusive.
For more information, please see our Comments FAQ