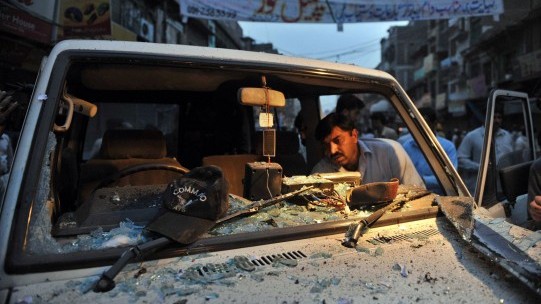 ---
PESHAWAR: A blast occurred in Peshawar's Qissa Khwani Bazaar killing 23 people and injuring 30 others on Monday, when people were protesting against loadshedding.


According to reports, 10 people including the DSP City Gulfat Hussain were killed on the spot while Jamat-e-Islami Peshawar General Secretary Shabbir Ahmed was injured in the blast.

AFP ADDS:

The attacks take the number of people killed in bombings in northwest Pakistan to 73 in three days, after weekend suicide strikes bearing the
hallmarks of Taliban militants left 49 people dead in the city of Kohat.

As dusk fell Monday at Peshawar's busy Qissa Khawani Bazaar, a suicide bomber walked into the crowd and detonated explosives, scattering shoes and human limbs on the street and destroying cars, witnesses said.

"Twenty-three people were killed including three police officials. At least 27 people have been admitted to the hospital," senior police official Imran Kishwar said. Senior provincial minister Bashir Bilour confirmed the toll. Bomb disposal squad chief Shafqat Malik told reporters that the blast was caused by a bomber wearing a suicide vest packed with steel pellets, ball-bearings and six to eight kilograms (13 to 17 pounds) of explosives.

"We have recovered the head and legs of the attacker," he said.

Hardest hit were supporters of the Islamist party Jamaat-e-Islami (JeI), who were still crowded in the area after staging a protest against soaring
inflation and crippling power shortages. "We were burning tyres after the protest. We had set one tyre on fire when a deafening blast rocked the whole area," JeI party worker Saifullah said.

Mujibur Rehman, a book seller in the bazaar, told AFP: "I heard a huge blast soon after the crowd was dispersing. There was smoke everywhere and body parts were scattered on the ground."

JeI deputy head Siraj ul Haq said he believed 25 party members had been killed, giving a slightly higher death toll than the police.

"There are many groups and agencies involved in the acts of terrorism but this is the failure of government who are responsible for the protection of citizens," he told reporters.

The government declared three days of mourning in the province.

(Click the video tab above for the latest video update)


Initial video report here.
COMMENTS (4)
Comments are moderated and generally will be posted if they are on-topic and not abusive.
For more information, please see our Comments FAQ