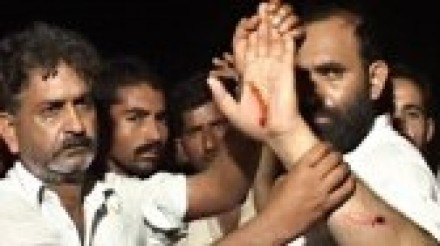 ---
LAHORE: Ten sustained serious injuries as police officials violently baton-charged protestors accusing them of ignoring an FIR registered against men affiliated with a popular political party.

Reportedly, the injured including seven police officials and three protestors were shifted to Omar and City Hospital following extensive tear-gas shelling and baton-charging on Raiwind Road late Saturday night. Nearly 100 protestors of Paijiyan Village decided to raise their voices against the police after a 25 year old resident Arshad Hussain was ignored and sent back without registering his complaint.

Arshad alleged that he was deliberately picked on and brutally beaten up by several party workers at a gas station on north Raiwind Road. The protestors burnt tyres and clashed with police officials who tried to disperse the crowd.

Talking to The Express Tribune the Raiwind station house officer Khalid Farooq Sheikh said that the protestors were not fighting for the rights of any victim and the prisons' minister and PML-MPA Chaudhary Shakoor had incited the protest. He further stated that Chaudhary Shakoor the brother of Abdul Ghafoor discreetly approached him to dismiss an FIR against a renowned criminal and drug dealer (whose name he refused to disclose).

He added that he turned down the request as the police had arrested him after repeated attempts and rigorous investigations. The SHO said that Ghafoor's family had strong support in the village which he had used to rally a mob against the Raiwind police. He added that Ghafoor was looking for an excuse to get him suspended in vengeance.

He refuted claims of aerial firing during the clash but revealed that FIRs were registered against 100 individuals including the minister for organising a fraudulent protest and instigating violence. He stated that the police was dealing with Arshad's case separately and were holding investigations in this regard.