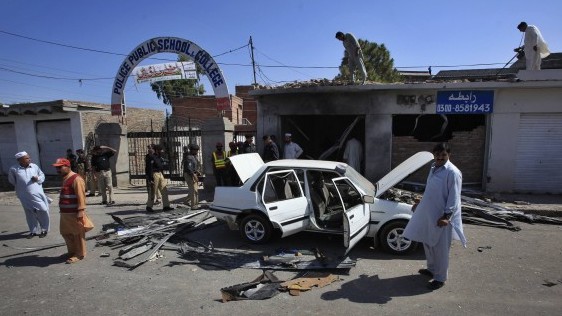 ---
PESHAWAR: A 6-year-old Pakistani schoolboy was killed and five boys and two other people wounded in an explosion on Monday outside a school in the northwestern city of Peshawar, doctors said.

"One schoolboy was killed. Seven people are wounded, five of them are children," Khizer Hayat, a doctor in a government-run hospital said. "All of the injured are in stable condition."

The blast took place outside Police Public School on Jamrud road, near Peshawar.


Two vehicles were destroyed in the explosion. Initial reports suggest that 2 kgs of explosives were used in the attack.

AFP ADDS:

"There was an explosion outside the Police Public School at closing time. Two people were wounded," senior police official Sher Akbar Khan told AFP. "

The incident comes after three suicide attacks in 24 hours killed 49 people in the nearby northwestern city of Kohat. 7 people were killed Sunday as a bomber tried to target a police station, while on Saturday two suicide bombers dressed in burqas struck a crowd of displaced people collecting aid handouts, killing 42.
COMMENTS (5)
Comments are moderated and generally will be posted if they are on-topic and not abusive.
For more information, please see our Comments FAQ