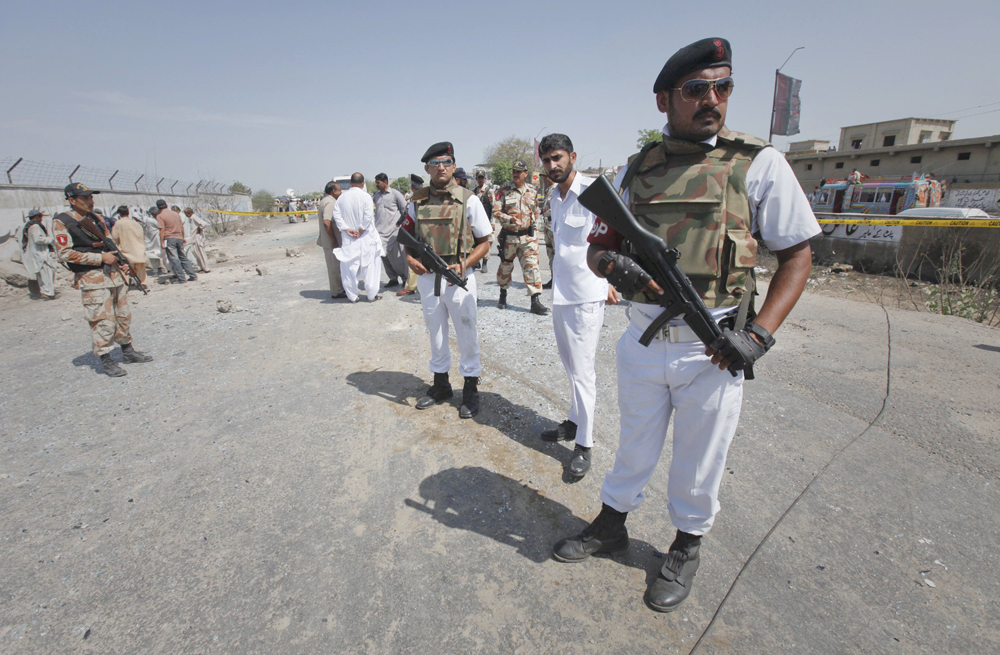 ---
ISLAMABAD: Minister for Defence Khawaja Asif on Tuesday revealed that authorities were investigating possible connivance of some Naval officials in Saturday's attack on the Navy dockyard in Karachi.

During the joint session of Parliament, PPP's Senator Raza Rabbani requested the defence minister to take the House into confidence over the terrorist attack on the Naval dockyard in Karachi.

On the call of the National Assembly Speaker Ayaz Sadiq, Asif said that the attack took place due to the possible connivance of some insiders and some suspected officials have already been apprehended in this regard while further investigations were being carried out.

However, the minister said he could only present a more accurate picture once he is briefed by the relevant authorities.

His comments came as the Taliban claimed responsibility for the attack.

The joint session of the parliament had been convened mainly to discuss prevailing political situation, sit-ins staged by Imran Khan, Tahirul Qadri and allies outside parliament house, but on Tuesday it turned to discuss other important issues related to floods and terrorism.

Senator Kalsoom Perveen, who is also a member of opposition's political jirga, though termed the unyielding demand of PTI and PAT for prime minister's resignation as unjustifiable.

Parveen said one important issue that surfaced during the talks was how to give cover to the agreement. If an agreement is reached between the government and protesting parties, it is being considered whether a presidential ordinance will be issued or an act of parliament would suffice.

Flood situation

Asif, who also holds the profile of Water and Power minister, briefed the House on government's efforts to counter causes and damages of floods.

The minister said that the government had received information of an exceptionally high flood only on September 6, adding that the death toll had reached 188 so far.

"Met office could not predict it in a timely fashion and another reason for the current calamity is climate change," the minister claimed. He said all the flood related agencies are working beyond their capacity and resources to tackle the situation. He said the agencies including NDMA, PDMA and district administrations are working tirelessly to cope with the flood situation. Because of climate change, similar situation was faced by other countries including the United Kingdom.

The minister called upon all the political parties to respond to the current crisis without politicising it. It is a national tragedy and leaders from all political shades must rise to the occasion and demonstrate unity for the assistance of the affectees, said Asif.

Sharing details of the damage wrought by the floods, he said that 1,242 houses had been partially damaged while 191 houses were completely destroyed. 1,053 villages have been affected by the rains and floods so far while standing crops on 325,000 acres have also been damaged. As many as 436,000 people have been affected by the floods.

Giving details of relief efforts, Asif said that over 18,200 people have been evacuated while around 2,000 people are living in relief camps. The government had established over 450 health centers have been established for the flood affectees.

On the other hand, data compiled by National Disaster Management Authority (NDMA) reveals a more devastating picture, with 1,413 houses partially damaged while 265 destroyed. Number of villages affected were 1,337 with 551,159 people affected. According to NDMA data, total crop area affected by floods was 435,843 acres.

He further added that said that the Gujranwala district was worst affected by floods and the flooding in river Chenab caused mass destruction while deaths in Sargodha division were caused by heavy rains as opposed to flooding.

The minister made an appeal to increase funds reserved for the Met Office and flood commission.

In his briefing, the federal minister further said that this is purely a provincial subject and provinces should focus to enhance capacity of these departments. "Urban flooding is a result of encroachments, due to which flood water destroys settlements," Asif said while pointing towards Nullah Leh in Rawalpinid and Sialkot city's encroachment around drains.

Bilour calls for audit of NA-1

During the session, Haji Ghulam Ahmed Bilour of Awami National Party (ANP) said that a great amount of money was spent on election campaigns and accused PTI chairman for allegedly taking money from people to become the prime minister of the country.

After failing to become the premier through ballot, Imran is struggling to become premier through unlawful means, claimed Bilour.

Bilour challenged that NA-1, which Imran had initially won before losing it in by-elections, should be audited.

The ANP leaders lamented that the leadership of protesting parties were using derogatory language, adding that PTI chairman Imran Khan can never become the prime minister of the country.

Commenting on PAT chief Tahirul Qadri, the senior ANP leader said that he was following an international agenda. Bilour said that Qadri wanted to rule without constitution or democracy.
COMMENTS (2)
Comments are moderated and generally will be posted if they are on-topic and not abusive.
For more information, please see our Comments FAQ