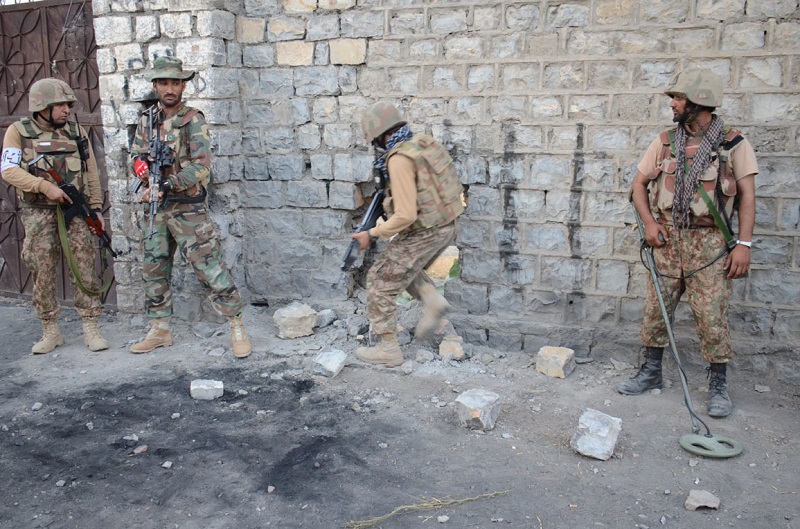 ---
RAWALPINDI: According to an ISPR statement, 910 militants have been killed so far in the ongoing military operation in North Waziristan.

Eighty-two soldiers have lost their lives so far since the start of the operation while 269 others have been injured, added the ISPR statement.

Of the 82 soldiers, 42 were killed in North Waziristan Agency, 23 in rest of Fata and 17 in remaining parts of the country including Balochistan and Karachi, the statement read.

Security forces have cleared Miramshah, Mirali, Datta Khel, Degan, Boya areas of North Waziristan which were considered strongholds of terrorists, stated ISPR.

An 88km long road from Khajuri to Mirali and then to Miramshah and Datta Khel has been cleared while the road from Ghariom and Jhallar has also been cleared.

Twenty-seven improvised explosive device (IED) factories and an ammunition factory have also been destroyed during the operation.

………………………………………………………………………………………………………………………………………….

………………………………………………………………………………………………………………………………………….

The ISPR statement also said that 19,376 tonnes of ration have been distributed to 97,570 internally displaced persons so far.

"Huge cache of arms and ammunition, communication equipment, and other logistics facilities, used by terrorists have been destroyed uprooting their ability to attack as a coherent force," stated ISPR.

Also, 2,274 intelligence-led coordinated counter terrorism operations have been carried out throughout the country to prevent any blowback of the main operation in North Waziristan. According to ISPR, 42 militants have been killed in these operations while 114 others have been apprehended.

"At a field medical hospital established by Army Medical Corps at Khalifa Gul Nawaz hospital Bannu, 113,209 patients including 32,979 females have been treated to date," said the press release.

Further, 32,226 cattle have been treated so far whereas 73,338 cattle and 129,141 poultry have been vaccinated up till now, added the statement.