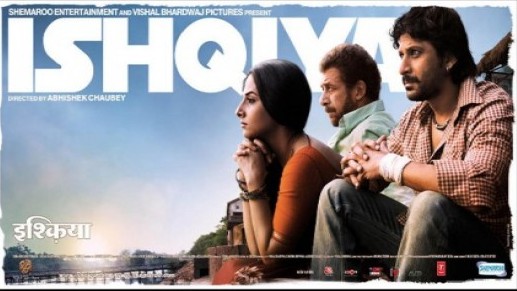 ---
Though Ishqiya is Abhishek Choubey's directorial debut, in no way does it give the impression of being made by a first timer. Whether it is due to the mentorship of the producer Vishal Bhardwaj (himself the director of the acclaimed Omkara and Kaminey) or because of Choubey's innovative approach, Ishqiya is quite different from the formulaic song-infested, tear-filled fare that still forms Bollywood staples. Like Bhardwaj, Choubey has used the hard realities of India's hinterlands, highlighting the rampant caste divide and high incidence of kidnapping, and combined it with the desire for love to devise a strange yet thought-provoking yarn.

The film revolves around three main characters, Krishna (Vidya Balan), Babban (Arshad Warsi) and Khaalujaan (Naseeruddin Shah).

Babban and Khaalujaan are criminals on the run who seek refuge at an old friend's house. However, when they reach their destination of Gorakhpur to discover that their friend has come to a messy end and his voluptuous, terminally underdressed, hard-talking widow Krishna is now in situ instead. The arid and crude setting which is used to depict the Uttar Pradesh village of Gorakhpur, as well as the use of the varying dialects of Urdu and Hindi are well-used to create a sense of verisimilitude.

The performances of the leads are all commendable. It is one of Balan's most impressive performances to date, which is saying a fair amount since she's a star who has hardly ever failed to impress. Following on from her award winning role as sentimental single mother in the recent award-laden Paa, Balan now takes on a far more rewarding avatar as a woman alone in a patriarchal society. She uses all weaponry available to her, including her feminine wiles, to get what she wants, as society isn't about to hand it to her on a platter. While Balan's on-screen persona has always been closer to bluestocking than sex kitten, she proves that she can out-vamp the next girl with a passionate on-screen kiss which shan't be easily forgotten.

This is Warsi's best performance yet. Having suffered something of a dry spell after his success in the Munna Bhai series, finally another meaty role has come his way, and he delivers in spades, not least in mastering the Uttar Pradesh Urdu accent. Warsi's Babban is young, crude and sexually carnivorous, making a dramatic contrast with Shah's Khaalujaan, who is no less keen on the opposite sex but expresses himself with an old world courtship.

The two-hour-long movie rolls along at a brisk pace, a blessing and a curse, since it can come across as a bit abrupt at moments and requires explanations which it does not provide. The plot itself is not the strong point, but it is so well cushioned between the dialogue, crisp cinematography and strong performances, that this insufficiency can almost be forgiven.
COMMENTS (6)
Comments are moderated and generally will be posted if they are on-topic and not abusive.
For more information, please see our Comments FAQ