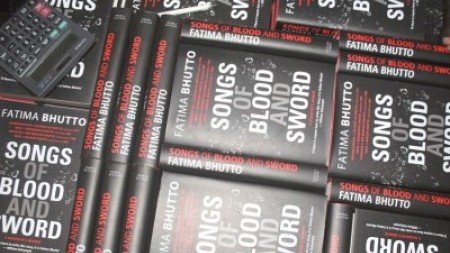 ---
KARACHI: Featured review of the week

As a work of journalism, which is what the book purports to be, Songs of Blood and Sword is about as useful as Mein Kampf. Fatima Bhutto prefers lyricism over facts, yes-men over dissenting opinions and vendettas over reconciliation.

Bhutto's hagiographic treatment of her grandfather, Zulfikar Ali Bhutto, is particularly jarring as it creates contradictions at nearly every turn. Thus, Ayub Khan's rule is condemned as the country's first dark dictatorial era but ZAB as foreign minister – under that very despot – was the catalyst of a "shining period" in Pakistan's history. And on it goes. General Tikka Khan is rightfully condemned as the "Butcher of Balochistan and East Pakistan" but, because it would be inconvenient to Fatima's narrative, no mention is made of the fact that he served as chief of army staff under ZAB and even became an important PPP leader after his retirement from the army.

When it comes to ZAB, the young author, raised on family tales of his greatness, succumbs to her blind spot. So, ZAB is praised for resigning from Ayub's government after the military ruler signed the supposedly humiliating Tashkent Declaration. Never mind that Bhutto himself was a part of the negotiations, and when Indian Prime Minister Lal Bahadur Shastri died just before the agreement became public, ZAB publicly boasted that Shastri was so humiliated at being outwitted by the Pakistanis, he suffered an instant heart attack.

She also takes great liberties not just to minimise ZAB's role in the secession of East Pakistan, but to deny any involvement in it at all. She simply says, "Any constitutional settlement hinged on the two parties [PPP and Awami League] reaching an agreement to share power" and leaves it at that. She doesn't mention that the Awami League had enough seats to form a week government and that ZAB, in connivance with Yahya Khan, refused to allow parliament to meet. She also sees no need to take note of ZAB's infamous "Idhar hum, udhar tum" remark.

Bhutto's hero-worship of her grandfather is matched only by the venom she directs at her aunt, Benazir Bhutto. She reproduces the standard litany of complaints – corruption, highhandedness and the alienation of PPP stalwarts – and comes up with some new theories. By now everyone is wearily familiar with Fatima Bhutto's accusation that Benazir was responsible for her father Murtaza's murder. But she adds a new charge to Benazir's rap sheet: the curious death of Shahnawaz Bhutto. All she offers by way of evidence is an interview she had with a lawyer, Jacques Verges, who looked into the case.

She approvingly quotes him: ""She didn't want to fight the CIA and the Pakistani Intelligence service, who your father was always convinced were behind his brother's death." Why not? I asked, genuinely curious. Verges laughed again and made a face at me that I understood. Because she worked with them. Because her power was always based on their approval." When reading this, keep in mind that Shahnawaz died in 1985, when Ziaul Haq was still in power and the intelligence agencies were hounding Benazir. Recall, too, that Benazir's first term was plagued, and eventually terminated, by a military establishment that never trusted her.

Bhutto is at her best when writing about her father. Sure, she exonerates him of all responsibility for the hijacking of a PIA plane by his rebel group, al-Zulfikar, but that can be forgiven as a daughter's love. Her fond childhood memories show Murtaza as a kind, doting father which is a welcome change from his public persona: that of a gruff politician who never let niceties interfere with his politicking. The stories that emerge from behind the boundaries of 70 Clifton are fascinating enough to make one wish Fatima had chosen a career as a memoirist rather than a journalist.
COMMENTS (4)
Comments are moderated and generally will be posted if they are on-topic and not abusive.
For more information, please see our Comments FAQ