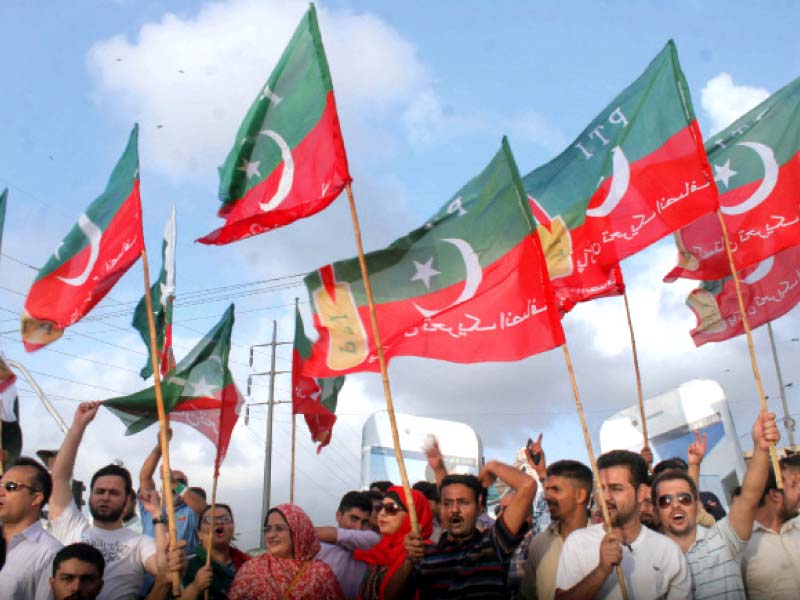 ---
KARACHI:



On day two of the sit-in on Thursday, the Pakistan Tehreek-e-Insaf (PTI) Karachi team failed to attract a large number of people but it managed to block one side of the road across Boat Basin.




The party supporters started their dharna in the port city on Wednesday to show solidarity with the party chief, Imran Khan, who has been leading the 'Azadi' march since August 14. Wednesday's sit-in took place at Teen Talwar while the one on Thursday was organised at Boat Basin.

The numbers may be few but the party's local leadership has decided to put up a stronger front. It has vowed to block the entire city and threatened to bring it to a standstill if Imran Khan is arrested. "We will block the roads and all main thoroughfares," claimed PTI MPA Khurram Sher Zaman, who had arrived from the capital on Thursday. "We want to show that the people of city are active and they not only gave votes but are with him all the way." Another activist, Faseeh, threatened to shut down the entire city and block Sharae Faisal.

True to all PTI rallies, active party workers and supporters danced to tunes of 'Bane ga naya Pakistan' by Attaullah Khelwi and shouted the lyrics. On the second day of the 'sit-in' which started in the evening, the people chose to stand the entire time instead of sitting down.  Many of them, such as student Maria, had come only because they were fans of the cricketer and had no idea why the government should be overthrown.


#KARACHI - A Large number people have gathered at Boat Basin in Solidarity with #AzadiMarchPTI

— PTI (@PTIofficial) August 21, 2014


"I don't like Nawaz Sharif," she said with some determination. "I want him to go because Imran Khan has said so," she added. She had decided to wear green as she accompanied her mother and neighbour. Within an hour after the dharna started across Shaheed Benazir Bhutto Park, some people started leaving. "Time for fun is over and I have things to do at home," said Shoaib Zaidi, as he left with his friend on a motorcycle. The rest proceeded towards Agha's Super Market, where the live speech of Imran Khan was to be broadcast.

Nabeel Kabir, 11, said he had come because he wanted Naya Pakistan. "The new country will have everything," smiled the innocent boy.

The grown-up activists were, however, unwilling to answer what will happen in case Imran Khan is arrested, if he fails or if he is not successful in becoming prime minister. A supporter said that he would burn down the city. Another student said that they will fight if Imran Khan does not become the prime minister. "If he doesn't become the prime minister, then I will know the elections must have been rigged again," he said.

Published in The Express Tribune, August 22nd, 2014.
COMMENTS (2)
Comments are moderated and generally will be posted if they are on-topic and not abusive.
For more information, please see our Comments FAQ