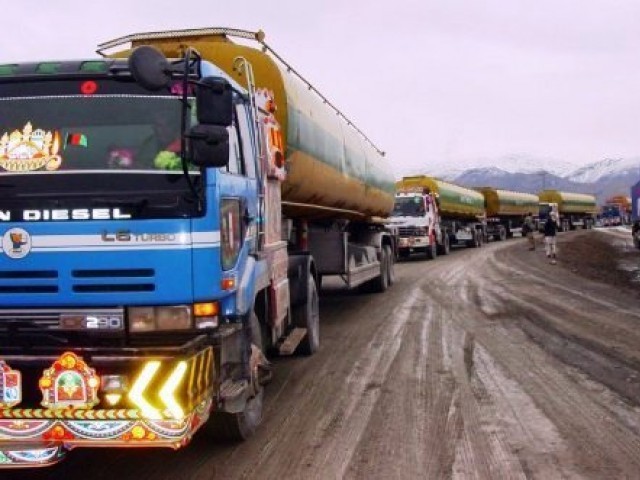 ---
JAMRUD: Two drivers were killed while two others, including a cleaner, were injured when unidentified militants ambushed oil tankers carrying fuel for Nato troops stationed in Afghanistan.

The attack took place in Jamrud tehsil of Khyber Agency around 8am on Thursday. Political tehsildar Irshad Khan said around 10 tankers were en route from Karachi to Afghanistan when they were fired upon in Sor Kamar by gunmen on motorcycles.

Khan added two drivers, Juma Khan and Muhammad Ayaz Jan, died on the spot while cleaner Muheen and passerby Zabith were injured. He added two of the oil tankers caught fire as a result and were completely burnt, adding khasadars rushed to the spot and a shoot-out ensued between paramilitary personnel and the militants lasting for nearly an hour.

The political tehsildar said more than 20 militants carried out the attack, adding all of them managed to escape despite retaliatory fire. The injured, meanwhile, were rushed to the nearest hospital.

Later, people rushed to the site carrying utensils to salvage the oil for domestic use.

Earlier this week, unidentified gunmen ambushed a Nato container, killing the driver and cleaner in Jamrud.

Irshad Khan said two unidentified gunmen on a motorcycle opened fire at the empty container near Hawaldari check post as it was en route from Afghanistan. He added khasadars opened retaliatory fire but the assailants managed to escape, saying no one has yet claimed responsibility for the attack.

Published in The Express Tribune, August 22nd, 2014.