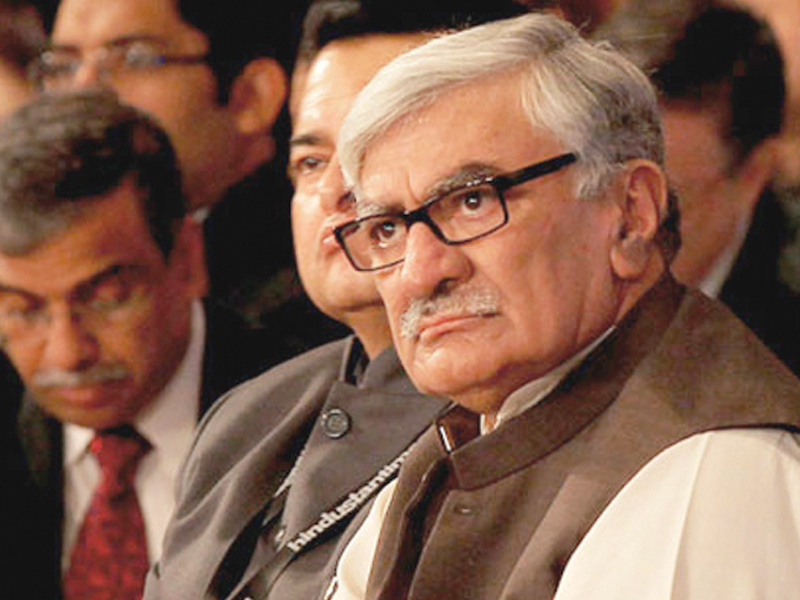 ---
SWABI: If the parliament is dissolved because of Pakistan Tehreek-e-Insaf and Pakistan Awami Tehreek's pressure, it will set a poor precedent for the future. This was said by Awami National Party (ANP) President Asfandyar Wali Khan at the party's convention held at Gul Zamin Shah's hujra in Swabi on Thursday.

Reaffirming his party's stance on the supremacy of the Parliament, Asfandyar urged Imran Khan and Tahirul Qadri to review their politics before the country plunges into an irreversible crisis.

"We will be the first to oppose any unconstitutional act by PTI and PAT," said Asfandyar. "Nawaz Sharif is an elected prime minister and maintains the right to complete his term."




The meeting was also addressed by ANP's provincial president Amir Haider Khan Hoti, Central General Secretary Mian Iftikhar Hussain, parliamentary leader in the K-P Assembly Sardar Hussain Babak and district president Haji Rahmanullah Khan.

The party convention was largely attended by party stalwarts and workers, who have remained divided into two groups over the last five years. On Thursday many people resigned from other political parties and announced joining the ANP.

Robbed in 2013?

Swabi was long considered a stronghold of ANP, but the party's defeat in the May 2013 general elections left supporters stunned; the loss was blamed by many on internal rifts.

However, Asfandyar held a different view. The party president said ANP candidates were the victims of rigging.

"Despite serious reservations", the ANP recognised the 2013 elections for the sake of democracy and the larger interest of the country, said Asfandyar. He recalled the party was unable to run a "free" election campaign, with a constant threat of terror attacks hanging over their heads and actual attacks on their candidates. But, he added, PTI leaders and candidates were given a free hand. "We were defeated through a well-planned conspiracy," he said.

All for democracy

Turning his attention to the present, Asfandyar said, "The future depends on democracy and all politicians must ensure the continuation and strengthening of the democratic process."

He emphasised the volatile law and order situation, regional turmoil and other factors left no room for internal confrontation. He slammed the PTI and PAT marches to Islamabad, saying Imran and Qadri should have demonstrated they were responsible politicians and should deviate from acts that can destabilise the country.

The Khattak dance

Other ANP leaders also took a jibe at PTI stalwarts, especially K-P Chief Minister Pervez Khattak for his prolonged stay in Islamabad.

Hussain and Babak both pointed out that Khattak was busy dancing on stage in Islamabad while people were dying in rains and floods in his province.

Party leaders alleged Imran and Qadri were in favour of military rule, but unfortunately for them, top military officials and political leaders were determined to let democracy run its course.

Meanwhile, Asfandyar urged party leaders and office bearers to arrange meetings similar to the convention in Swabi so the divided party has a chance to reconcile with its supporters.

Published in The Express Tribune, August 22nd, 2014.