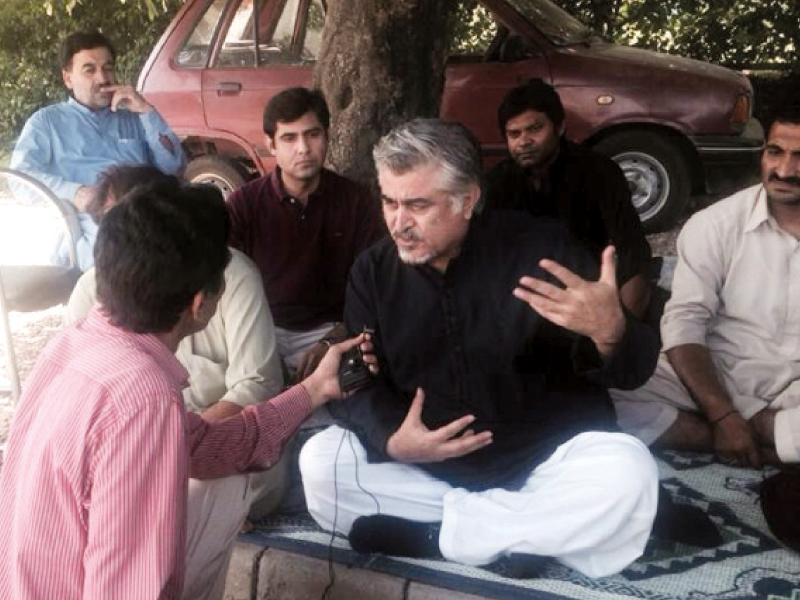 ---
ISLAMABAD:



In an attempt to provide respite to residents of the capital who have been undergoing a nerve-wracking situation for the past week, artist and social activist Jamal Shah decided to hold a "peace concert" at the Fatima Jinnah Park three days ago.




When denied permission by the government, Shah announced to go on a hunger strike until successful negotiations between the government and protesters of the Pakistan Awami Tehreek (PAT) and Pakistan Tehreek-i-Insaf (PTI).

Setting up a camp at the National Press Club, 57-year-old Shah is being supported by members of the civil society and youth.

"I am not going to eat until the government decides to take decisions in the right direction," he said. On August 19, Shah tweeted on his official page stating that, "I am on a hunger strike against the irresponsible dharnas and government's apathy. Start dialogue and solve the issue or my strike will continue till death".

"My hunger strike is against the fascism of Imran Khan and Tahirul Qadri and in support of democracy. Bravo brave civil society and gallant PFUJ [Pakistan Federal Union of Journalists]," he tweeted later.

As the third day of his hunger strike continues, Shah has now decided to spend the night outside the press club.

Speaking to The Express Tribune, Shah said his stand was not for any party but for the city and country. "My stance is to stop these people from destroying the peace and calm of the country. I don't oppose the demands of either party but it should not be at the cost of undemocratic and unconstitutional gestures," he said.

Shah said that thousands of people had entered the capital, risking the lives of women and children. He said both Khan and Qadri were spreading intolerance through their speeches and body language. "In my opinion [this is] total exploitation of the youth and the people," said Shah.

"Whoever is running the government, if thrown out in this manner, it is likely the country is going to go to the wolves. If such acts continue, there will be bigger dharnas each month and a chain reaction [will follow], which we cannot afford," the actor said.

Shah had earlier requested the government to grant him permission to hold a peace concert at Fatima Jinnah Park. He had organised groups of youngsters who were going to participate in music, poetry and a cultural narrative exchange.

"It was for people of the city [who are] under siege at the moment, to come and experience life again, under abnormal circumstances," he said. "It was to defy negative trends through peaceful gestures and a statement that life goes on," Shah added.

When denied permission, Shah decided to go on hunger strike until successful negotiations take place.

"My family is not for this, but it's a conscious decision as a concerned citizen of the country," the actor said.

He requested PTI and PAT to call off their protests and end the impasse in a logical and peaceful manner.

The investigations into the killing of 14 PAT workers in Model Town, Lahore should be carried out in a transparent manner, suggested Shah. "If Shahbaz Sharif has to resign over this, then he should," said the actor.

A number of members of the civil society came to support Shah at the press club on Thursday.

Published in The Express Tribune, August 22nd, 2014.
COMMENTS (5)
Comments are moderated and generally will be posted if they are on-topic and not abusive.
For more information, please see our Comments FAQ