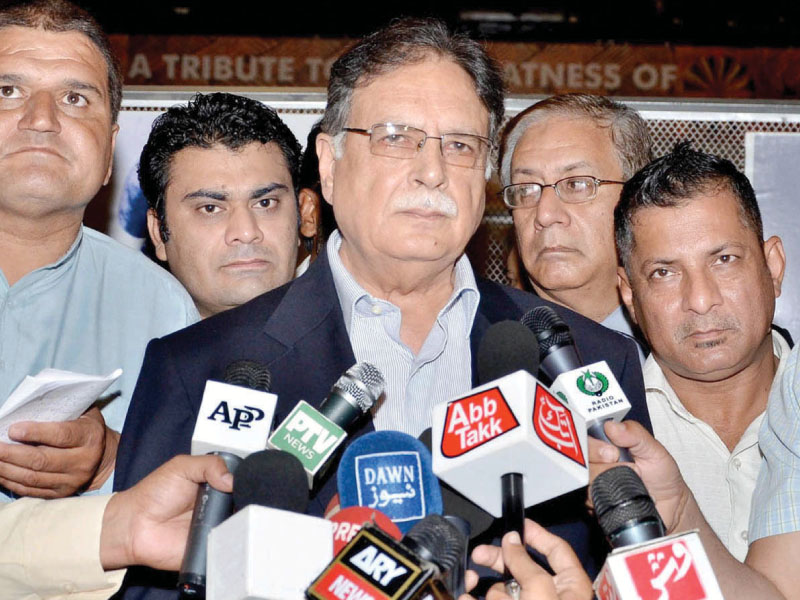 ---
LAHORE:



No one can work or negotiate with a prime minister who refuses to improve things for the better, Leader of Opposition in Punjab Assembly Mahmoodur Rashid said on Wednesday. "The government surrendered to our demands after the civil and police administration revolted and stopped obeying the prime minister's orders," he said.




Rashid was talking to media persons on Wednesday.

He said, "Every time Nawaz Sharif comes to power, his first step is to undermine the army and the judiciary. Then he moves to plunder the nation's wealth." He said this was because Sharif was paranoid when it came to the army and that's why he always tried to undermine its authority.

Rashid said former army chiefs General (r) Jehangir Karamat, General (r) Asif Nawaz Janjua and General (r) Pervez Musharraf had faced Sharif's paranoia. "Sharif has always tried to impose his decisions on the army and tried to create rifts within the institution...and has always failed."

He said Sharif was a product of the army who had groomed and nurtured him as a politician.

"What parliament does Sharif speak of? The one he never visits?" Imran Khan has never indulged in drawing room politics or struck deals, he said. "All negotiation will be conducted in the Red Zone in the presence of Pakistan Tehreek-i-Insaf workers and leaders."

He said Sharif's government was now at the mercy of those staging a sit-in in Islamabad.

Rashid said no one could save Sharif's corrupt and illegal government now.

"This is the first protest movement of its kind in Pakistan and Imran Khan is leading it."

He said the Pakistan Tehreek-i-Insaf's journey from Zaman Park in Lahore to Red Zone in Islamabad had shown that they were a peace-loving party and had not created any disturbance or damaged public or private property.

The opposition leader said Imran Khan had emerged stronger as a national leader after the movement. "We are proud to be writing this chapter in history and are prepared to make any sacrifice necessary to end dynastic politics and corruption."

He said Imran Khan was fighting a war for the 1.9 billion people of Pakistan. Traders, clerks, farmers, workers, former army officers and soldiers, and members of minority groups from all provinces were part of PTI's march. He said students from schools, colleges, universities and madrassahs were also participating in the march. "Our only demand is that the present government, which was formed through massive rigging, resign and true democracy be given a chance to flourish."

Published in The Express Tribune, August 21st, 2014.
COMMENTS (2)
Comments are moderated and generally will be posted if they are on-topic and not abusive.
For more information, please see our Comments FAQ