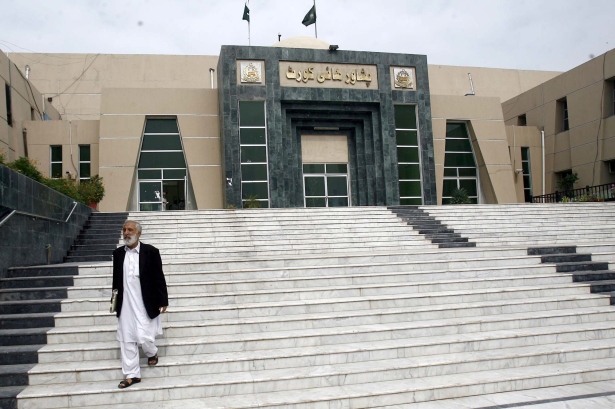 ---
PESHAWAR:



The Peshawar High Court on Wednesday suspended the notification of the appointment of Khyber-Pakhtunkhwa's (K-P) media cell adviser till further orders.




Justice Malik Manzoor Hussain and Justice Ikramullah Khan directed the Pakistan Tehreek-e-Insaf-led provincial government to submit a complete report before the next hearing.

Advocate Shakeel Ahmad, counsel for petitioner Shaukat Hayat Khattak, said the government advertised the post of media adviser on December 6, 2013. He accused the government of then illegally appointing Najiullah Khattak by ignoring other candidates who fulfilled the complete criteria.

Najiullah has been named a respondent in the petition along with the provincial chief secretary, information secretary, information director and public relations and culture department.

"Having the requisite qualifications, the petitioner applied for the post of adviser," read the petition. "The candidates were shortlisted and accordingly, call letters for interviews were issued...the name…Najiullah Khattak was not reflected in the list of shortlisted candidates," it added.

It went on to state Najiullah's name was subsequently included 40 days after the closing date for the shortlist "with mala fide intentions and thereafter, he was appointed as media adviser on July 7, 2014 in violation of merit and on political consideration." The petition argued Najiullah did not possess the requisite qualification to be appointed to the post.

Najiullah was working as the vice president of Pakistan Tehreek-e-Insaf Karak chapter prior to his appointment to the media cell.

The petition added, to adjust Najiullah, the respondents of the petition changed the qualifications needed for the media adviser.

"The incumbent media advisor holds a 2nd division bachelor's degree but to give him an edge over petitioner Shaukat, Najiullah was given the marks of a 1st division degree, which speaks volumes on mala fide intentions on part of the chief secretary and secretary information."

The incumbent media adviser also claims he has a master's degree in business administration from Philippine Christian University, but during those days he was serving at the British Council and National Institution of Business Management, stated the document.

Shaukat possesses all requisite qualifications, and also qualified on merit, to be appointed as the media adviser, but was ignored by the respondents. This, the petition added, has resulted in the gross miscarriage of justice and "warrants interference".

Downsizing

The same bench suspended two notifications of the provincial government through which it downsized the Directorate of Information and transferred 37 information officers to other departments.

The petitioners Shamsul Haq and Ibne Amin, through lawyer Arsahd Ali, told the court the K-P government transferred them along with 35 officers and posted them in other departments. Ali said the petitions have not been paid for the last two months.

The court then suspended the two orders of transfer and posting till further notice and sought reports from the government.

Published in The Express Tribune, August 21st, 2014.