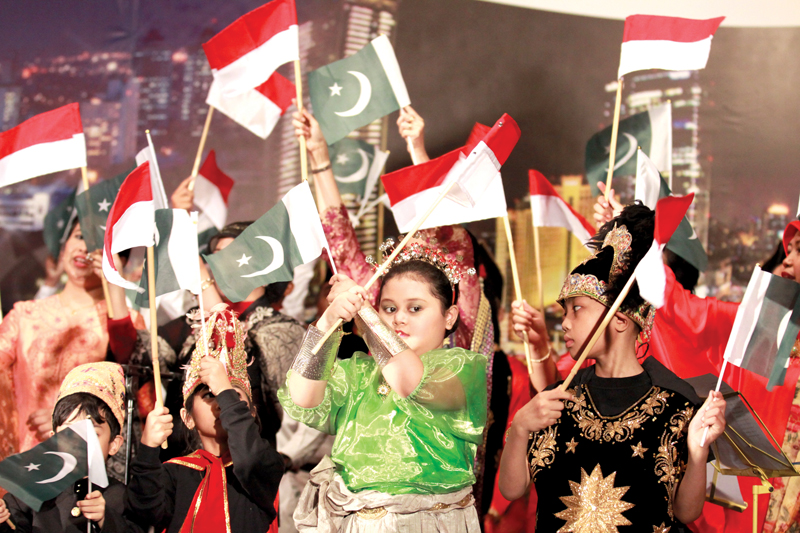 ---


The 69th Independence Day of the Republic of Indonesia was celebrated on Tuesday at an event hosted by Indonesian Ambassador Burhan Muhammad at the Embassy in Islamabad.




The reception was attended by government dignitaries, diplomats, Pakistani military officers, businesspersons and representatives of civil society, according to a press release.

Federal Minister for Commerce Engineer Khurram Dastagir Khan was the chief guest, however, he could not attend due to an urgent cabinet meeting.

The venue was beautifully decorated with flowers arrangements depicting Indonesian and Pakistani flags.

The event started with the national anthems of both countries, sung in chorus by the Indonesian ambassador, embassy officials and their families, before the ambassador was joined by the ASEAN heads of missions and Dean of the Diplomatic Corps Rodolfo J Martin Saravia, who is the Argentine Ambassador, performing a rice cone cutting to mark the day.

Ambassador Muhammad said that the day is being celebrated with great spirit and joy as the Indonesian nation has recently elected its seventh president in peaceful democratic elections held on July 9.

The envoy said that today, Indonesians renew their commitment to the spirit of pluralism with their shining slogan of 'unity in diversity' and to work hard for development and international peace under the guidance of the new leadership.

Ambassador Burhan expressed pleasure that the bilateral fraternal ties between Indonesia and Pakistan were growing strong and moving in the right direction with the consistent efforts from the both sides. He said that Indonesia deeply value its relations with Pakistan as a trusted friend and partner and sincerely desires to excel in a wide range of fields such as education and culture, agriculture, anti-terrorism, energy and mineral and security cooperation.

"Democracy is flourishing steadily and democratic roots and culture are becoming stronger in our two countries with the support and trust of our people," he remarked.

He expressed hope that Indonesia and Pakistan remain united by shared democratic values, strong will to move forward and commitment to work together as partners to promote peace and prosperity.

Performances of Indonesian traditional musical instruments including gambalan and angklung also featured, with female embassy staffers attired in traditional costumes performing.

Ambassador Burhan surprised the audience by leading the Indonesian band through performances of melodious songs. The audience enjoyed the performances and gave him big rounds of applause.

The guests were feted with a wide range of delicious food and the culture of Indonesia. The people appreciated the delicious food and hailed the nature and culture of Indonesia.

Published in The Express Tribune, August 21st, 2014.
COMMENTS
Comments are moderated and generally will be posted if they are on-topic and not abusive.
For more information, please see our Comments FAQ