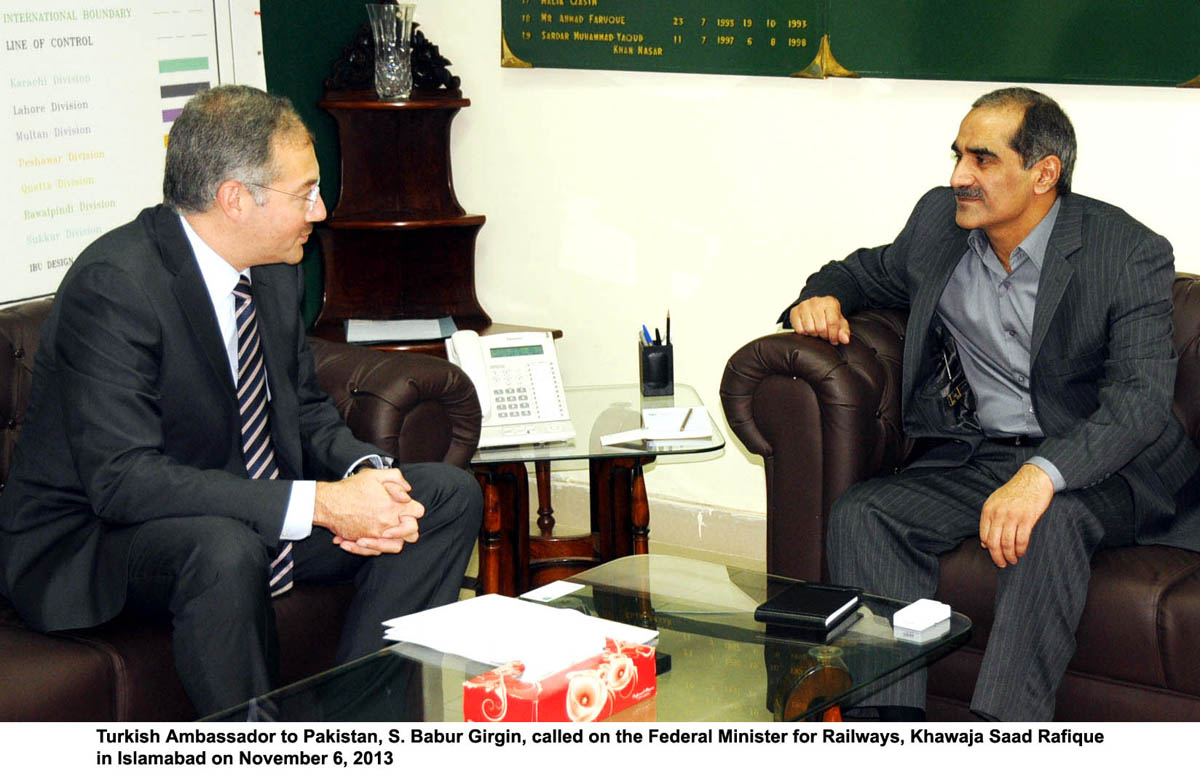 ---
Minister for Railways Khawaja Saad Rafique has said the government is ready for talks with the protesting parties – Pakistan Tehreek-e-Insaf (PTI) and Pakistan Awami Tehreek (PAT) – but it will not negotiate under threat of violence.

"We are ready to talk with both the PTI and PAT but their unconstitutional demands cannot be accepted," the minister said, while talking to Express News anchor Shahzeb Khanzada.

He said more than 40 million people of the nation had voted to form the parliament, which could not be dissolved under duress on the ultimatums of Imran Khan or Dr Tahirul Qadri.

"If this tradition takes root then no elected government will be able to complete its term in this country," he said.

He said it was the government's principled stance not to yield to unconstitutional demands. "The future generation would not forgive us if we set this tradition," he said.

"If people knew Nawaz Sharif they would not make such demands. The PM had been asked to submit resignation even in 1999 but he had not yielded even then," he said.

Rafique, however, denied that the government had not tried to engage the protesters and deliberately delayed the negotiation process.

"We have been trying to contact both the PTI and PAT directly as well as through various intermediaries. I myself have been in contact with PTI's leaders Javed Hashmi, Shah Mehmood Qureshi, Arif Alvi and Asad Umer.

"The Khyber Pakhtunkwa Chief Minister Pervaiz Khattak has also been approached by the Jamaat-e-Islami top leadership while Punjab Governor Chaudhry Muhammad Sarwar has been trying to initiate talks with the PAT. And we will continue our efforts to negotiate," he added.

He said during Ramazan Interior Minister Chaudhry Nisar Ali Khan had thrice met with Imran Khan and tried to convince him to come to the negotiation table.

He said if the PTI chief Imran Khan had evidences of rigging then he should present them instead of levelling allegations. He said the government was ready to form a commission of Supreme Court judges to probe these charges and could even open constituencies for recounting.

He said the government was also ready to listen to the PTI's suggestion and even make new electoral legislations after taking input from other political parties.

He said it was strange that the PTI had resorted to street politics while it was still fighting a legal battle against the alleged rigging in courts.

In reply to a question regarding the possible military intervention, he said the armed forces were working under Constitution and engaged in Operation Zarb-e-Azb. "And we should not try to drag them into politics," he said.

He said the government had shown utmost restraint and in order to avoid any tragic incident, Prime Minister Nawaz Sharif and his cabinet had decided to allow the protesters enter the restricted Red Zone and reach the Parliament House.

"However, both the parties are using women and children as human shield," he added. He said it was not just a problem of the PML-N but all the political parties were stakeholders now.

Published in The Express Tribune, August 20th,2014.
COMMENTS (6)
Comments are moderated and generally will be posted if they are on-topic and not abusive.
For more information, please see our Comments FAQ