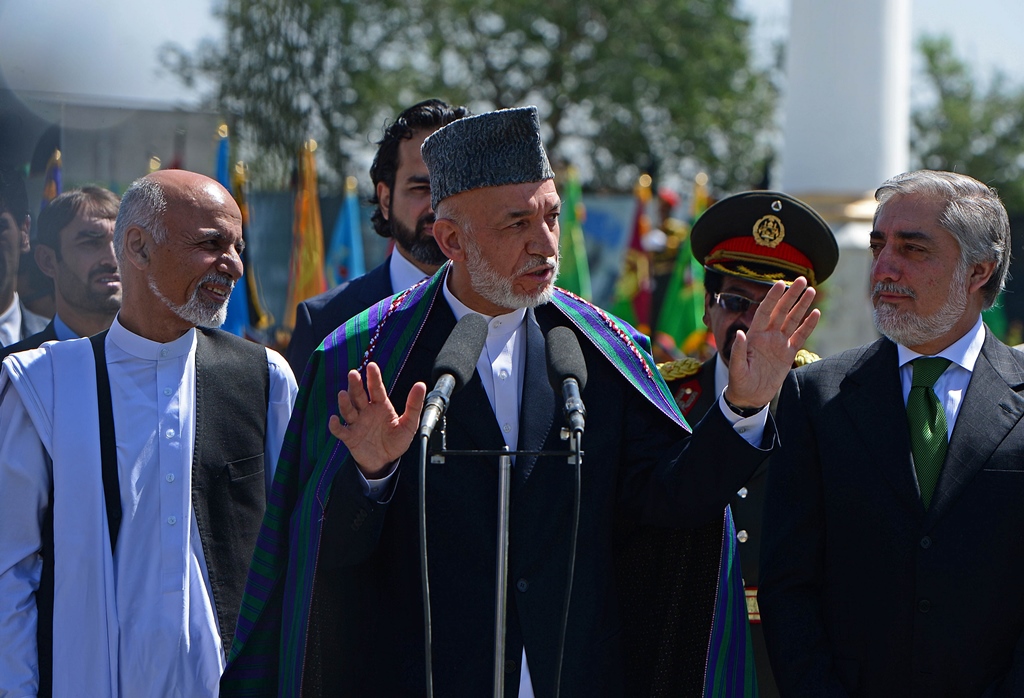 ---
ISLAMABAD: Afghan President Hamid Karzai again accused Pakistan of meddling in Kabul's internal affairs in his Independence Day speech on Tuesday, a few weeks before he is to step down from office.

Just hours before, Prime Minister Nawaz Sharif pledged to forge improved relations with Afghanistan and congratulated President Karzai  and the people of Afghanistan on their country's 95th Independence Day.

However, Karzai blamed Pakistan of interfering in Afghanistan's internal matters during his speech at the Ministry of Defence in Kabul.

"I want to tell Pakistanis to desist from harming our country," Radio Azadi quoted Karzai as telling the participants of the ceremony. The ceremony was attended by government officials including presidential candidates Abdullah Abdullah and Ashraf Ghani Ahmadzai.

Senior Afghan officials have stepped up criticism at Pakistan in the last days of President Karzai.

The Afghan foreign ministry on Monday claimed that Pakistan is "creating a militia" to disrupt peace in the country.

The foreign ministry spokesman Ahmad Shakib Mustaghni said that Afghan security agencies have collected information that Pakistan is "spending money" to prepare a militia.

"Pakistan plans to send the militia to Afghanistan," Mustaghni told his weekly briefing in Kabul.

Pakistan has not commented on the latest Afghan allegations but the foreign ministry has previously dismissed all such accusations as baseless.

"The security forces are ready to defend the country's frontiers and sovereignty," the Afghan Foreign Ministry said.

He said Afghanistan is involved in diplomatic efforts to find out solution to the problems along the border and cross-border rocket fire.

"If these efforts could not produce results and Pakistan continued its movement, then we have other options to use," he said without elaborating.

Mutaghni comments came a day after Afghan National Security Council accused Pakistan of "providing weapons and money to its paramilitary forces to target Afghans on this side of the Durand Line from tribal belt."

A plenary session of the NSC was presided over by President Hamid Karzai and the security officials briefed participants of the meeting on current situation of Afghanistan, a statement from Karzai's office has said.

Prime Minister Nawaz Sharif in his message of felicitation had greeted Karzai and the people of Afghanistan on their Independence Day.

"On behalf of the government and people of Pakistan, I wish to convey our warmest felicitations to you and the brotherly Afghan people," Nawaz Sharif said in a message to Karzai.

The message said the neighbours were bound by an abiding relationship based on a common faith, cultural affinities and a shared history.

"The indissoluble bonds are further reinforced by the neighbours' common aspirations for peace, stability and prosperity in the region," the Prime Minister said.

"I have no doubt that, working together, we would continue to build a close and cooperative relationship between our two countries and promote an environment of enduring peace, progress and development," he had said.

Published in The Express Tribune, August 20th,2014.