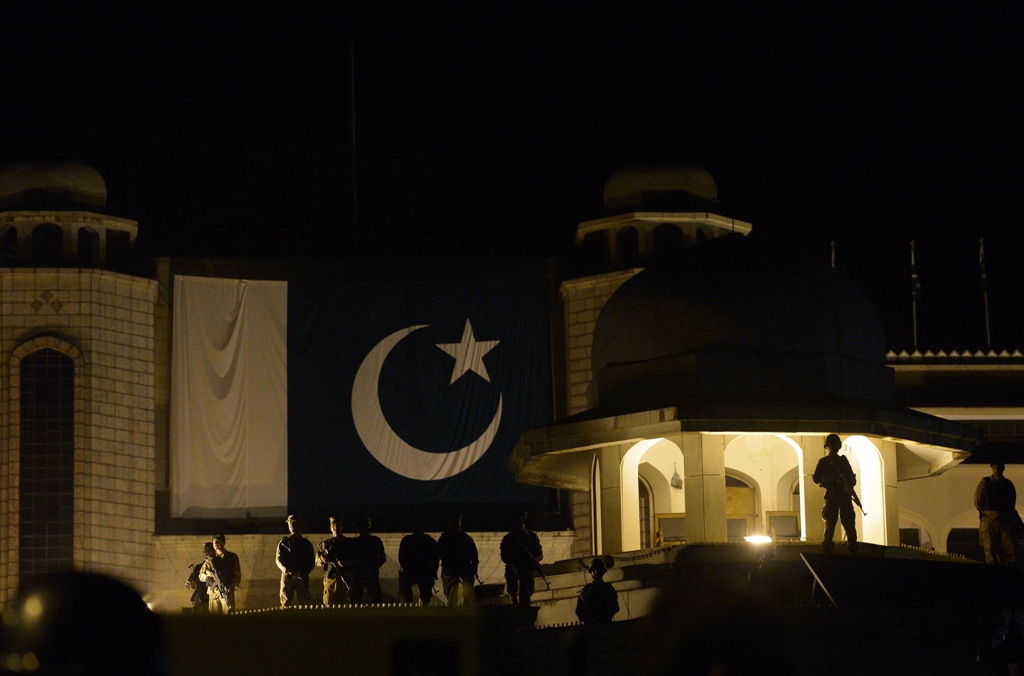 ---
ISLAMABAD: "Baba, when are you coming home?" asks a young girl, in a telephone call with her father. "Soon, beta," says her father, an Elite Force official deployed next to the Diplomatic Enclave on Islamabad's Constitution Avenue. He chats with his daughter about her day, a smile easing the previously stern look on his face. 

An estimated 10,000 policemen stationed in the area said they were 'sick and tired' of waiting for the Pakistan Tehreek-e-Insaf and Pakistan Awami Tehreek marches to end. "If they have taken an oath to follow their leader, we have also taken an oath to defend democracy and uphold the Constitution," said one official.

After receiving an update on the situation at the marches, a police official standing on top of a container on the perimeter of the Red Zone said that PAT marchers are a greater concern for security officials. He refers to previous clashes between the party and the authorities as Elite Force officials all check their weapons.

The path leading from the sit-in venues to the police line is fortified with multiple containers serving as barricades. The first set of containers is manned by regular policemen, the next set by Elite Force officials. After that, you enter the heavily fortified and sealed off Red Zone.

Entry here is banned and all side street entrances were blocked and manned by Elite Force officials.

However, the streams and drains running nearby were not manned. A muddy walk away, a swarm of black and khaki uniformed men stationed right across the Diplomatic Enclave prepped for the marchers' arrival. The combined deployment on this one road was easily in the thousands. "God is great," intoned a synchronised march anthem as security officials on Murree Road held a practice drill.

"This is not good politics," said an Elite Force official. He expressed hope that the party leaders would recognise the potential for a bloodbath if the Red Zone is breached. "The marchers should be wise enough to refuse if their leaders told them to get into a violent confrontation."

An Elite Force official looked at soldiers stationed a few meters away. "Even if the marchers don't respect us, they should at least respect them (army)," he said. "The army is fighting for this country right now. How would they feel if they saw this carnival?"

On Constitution Avenue, a soldier asked if the situation is as bad as it sounds. Bound by orders, he said he hoped he would not be required to use his weapon. As Interior Minister Chaudhry Nisar announced that the army would be deployed to ensure security in the area, the Red Zone is cleared of anyone not wearing a police or military uniform.

Nearby, a group of people asked if there was any way for them to get home to Bari Imam, located on the other side of the Red Zone. Dejected, they said they had been walking in circles for hours.

They headed back to the sit-ins, their frustration directed not at the security officials, who they said are 'just doing their jobs', but at the men speaking on stages set up just a short walk away.

Published in The Express Tribune, August 20th,2014.
COMMENTS (6)
Comments are moderated and generally will be posted if they are on-topic and not abusive.
For more information, please see our Comments FAQ