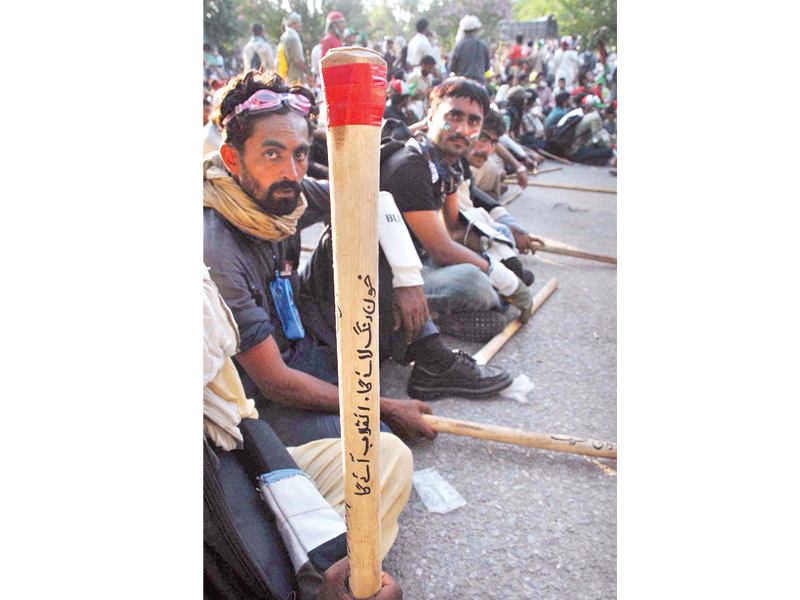 ---
ISLAMABAD: Stop, yells a young child, barely taller than the baton he is holding. He insists on giving passing Express Media Group staffers pat downs, despite the fact they are just 10 metres from their office. As he pats down the last of the journalists, a 'security team' colleague hands him a gas mask.

For a non-violent protest, the amount of specialised safety equipment on hand at the Pakistan Awami Tehreek (PAT) rally is surprising. Walking along Khayaban-e-Suharwardy, every few metres, PAT workers stand at attention, batons and riot shields in hand, gas masks around their necks, angry expressions on their faces. In a side street leading away from the protest area, three policemen sit watching, armed only with their service pistols.

"What will we do if they threaten us," asks a constable, requesting not to be named. The wry smile on his face could not mask the fear inside.

Across the road, a razor-wire fence blocks the women's enclosure. The fence is being used as a clothes line covered with laundry, adding to the level of tear, if not wear, that the clothes must put up with.

A shortcut to access the area where the PTI is holding its sit-in is blocked by a short, stout woman, also equipped with a baton and a gas mask. Behind her, two young children sleep in a 'cot' --- her riot shield.

Youngsters, more interested in the sights on the ground rather than the sounds on the speakers, are told to back away, but media members are allowed to pass without any trouble.

Across the road, it seems many PTI supporters have freed themselves from the venue of the Azadi march, with the crowd having thinned to a fraction of the first two days. But the zeal of the remaining youngsters remains.

Free juice boxes and snacks are being distributed by workers, but hungry, impatient youngsters quickly start breaking the line. A small fight breaks out. Children dash off with multiple boxes in their hands, while on the ground, a dozen-odd squashed juice boxes remain. An embarrassed PTI worker chides the youngsters for their behaviour.

Soon, a chanting crowd of 'lion slayers' approaches the stage area.  The exhausted crowd musters up the energy to join them. Strength is not just in numbers, it is in passion, says one.

On the way back, security staff on the PAT side are putting arm and leg pads, and helmets on. The scene is reminiscent of the pavilion when touring teams faced the West Indian sides of the 1970's.

Returning to the office, the young child has been joined by a more formidable stick-wielding colleague. Perhaps he is non-violent. The pads may just be to show support for the legendary fast bowler speaking across the road.

Published in The Express Tribune, August 20th,2014.
COMMENTS
Comments are moderated and generally will be posted if they are on-topic and not abusive.
For more information, please see our Comments FAQ