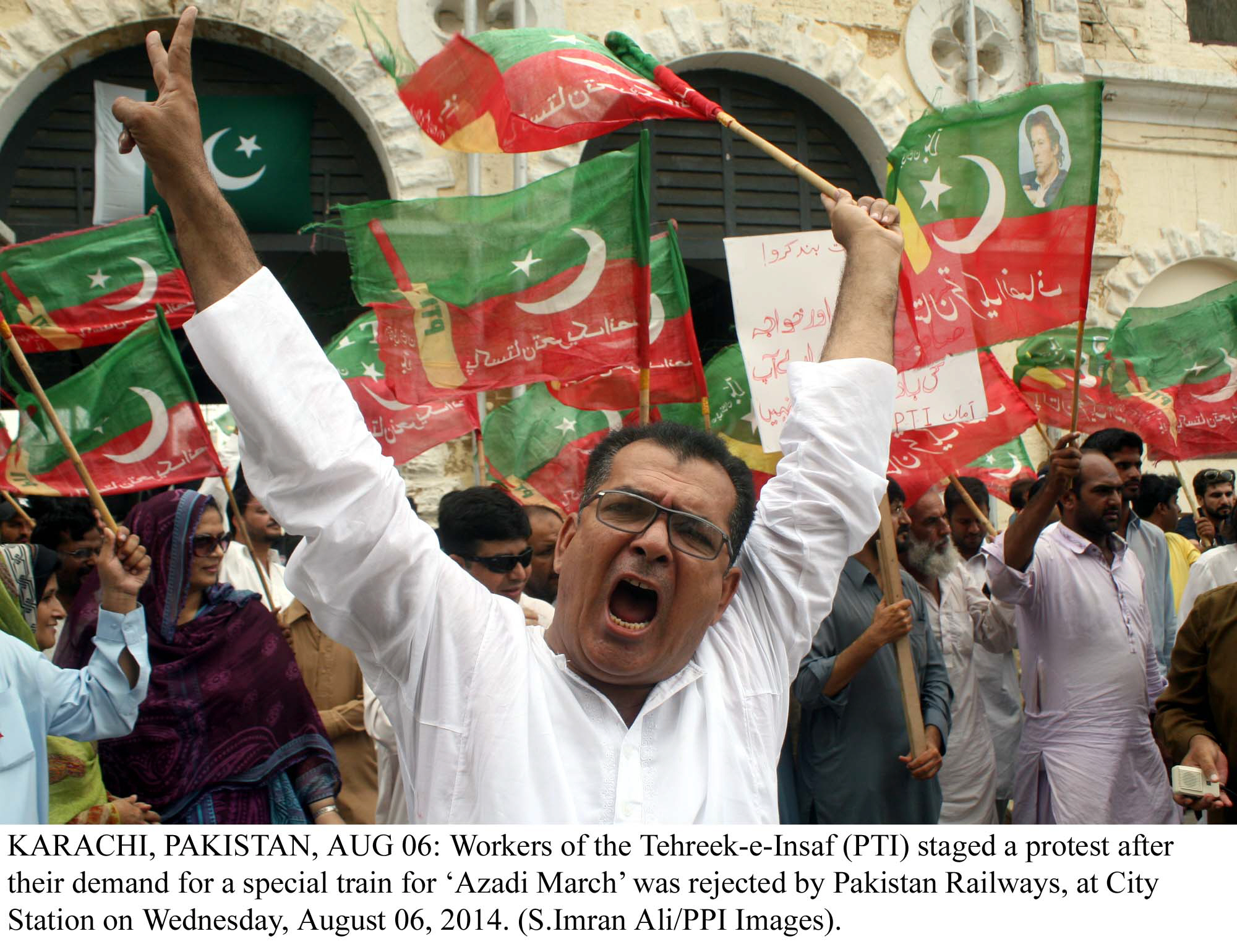 ---
MUZAFFARABAD: The majority of political leaders and constitutional experts of Azad Jammu and Kashmir (AJK) have opposed Pakistan Tehreek-i-Insaf (PTI) and Pakistan Awami Tehreek (PAT)'s marches describing them an attempt to derail democracy.

Former AJK prime minister and chief of All Jammu and Kashmir Muslim Conference (AJKMC) Sardar Atiq Ahmad Khan, however, backed the Inqilab and Azadi marches, saying "Every Pakistani and Kashmiri should support Imran Khan and Tahirul Qadri who are fighting to end hereditary politics in Pakistan.

Prime Minister Nawaz Sharif has failed to save the democratic system," Khan said, advocating electoral reforms to make Pakistan politically stable and sound.

When asked how to end the present deadlock between the government, PTI and PAT, he said Sharifs should show flexibility and accommodate opposition parties.

"Nawaz Sharif should introduce electoral reforms and give a chance to every political party to contest polls, not individual candidates which are a major threat to democracy," Khan added.

He suggested balancing of powers between the prime minister and president, saying it will promote peace and stability in the country. A retired general should be elected as the President of Pakistan, he suggested.

Pakistan Muslim League-Nawaz (PML-N) AJK chapter chairman Farooq Haider Khan said both Qadri and Khan were working on the foreign agenda to destabilise Pakistan.

He said Khan should focus on Khyber-Pakhtunkhwa (K-P) and make the province a role model, adding that we need the support of other three provinces to change Pakistan but PTI chief wants to derail democracy.

The opposition leader said the call for civil disobedience was not only illegal but also tantamount to treason. The government should take it serious, he said.

Jamaat-i-Islami (JI) chief Abdur Rashid Turabi said PTI and PAT marches are undoubtedly legal but the demands made by Khan and Qadri were unacceptable, adding that civil disobedience call is unconstitutional.

He asked the PTI chief to stick to his original demands for electoral reforms and the investigation of rigging and a vote audit.

"We hope  the two political parties, PPP and JI, would do their best to bring Imran, Qadri and the government on a negotiation table to settle the issues amicably," Turabi added.

Minister for Rehabilitation Abdul Majid Khan said two panels set up by the federal government to initiate talks with PTI and PAT are ample proof of the flexibility shown by the government to settle the issues on a priority basis and now it is the duty of Khan and Qadri to respond positively and dispel the impression that they were not sitting in Islamabad to derail democracy.

The minister further said people of Pakistan have sacrificed a lot for the restoration of democracy, even losing our beloved leader Benazir Bhutto.

He said it is time for politicians to come forward and save the democratic system. The minister\, however, said the PTI demands of electoral reforms and the election audit must be addressed in the larger interest of the country and democracy.

Former AJK chief justice Manzoor Hussain Gilani said PTI and PAT chiefs incite violence and disobedience.

He said we expected Khan and Qadri as flickers of hope in a hopeless nation but they are sticking to the demands of petty personal politics, disappointing the nation.

Gilani said what kind of a message does Khan want to send to the world by giving a call for civil disobedience. It is time for both Khan and Qadri to come to the negotiating table to settle the issues for the sake of stability in Pakistan.

Published in The Express Tribune, August 20th,2014.
COMMENTS
Comments are moderated and generally will be posted if they are on-topic and not abusive.
For more information, please see our Comments FAQ