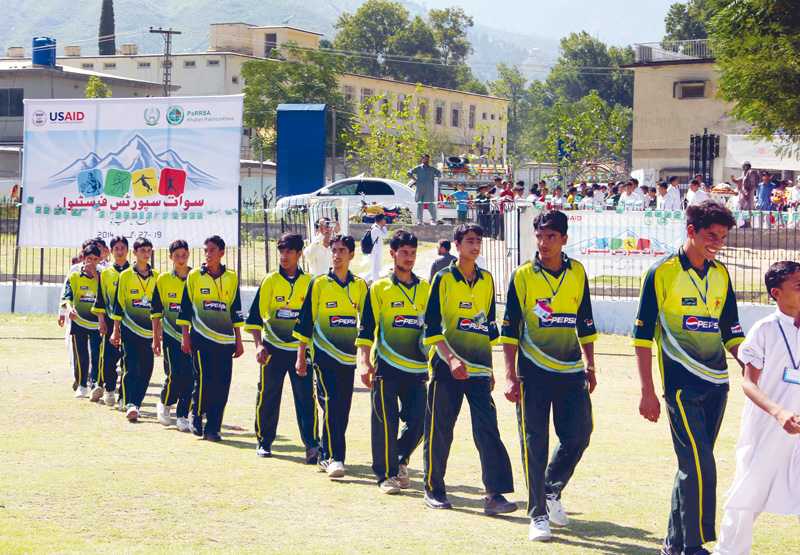 ---
MINGORA:



The nine-day Swat Sports Festival kicked off on Tuesday amid high enthusiasm from sports lovers at Grassy Ground in Mingora.




Under the slogan of 'Play, Unite, Rebuild', the festival aims to revive normalcy in the militancy-affected area by engaging the youth productively in sporting and cultural activities.

The event has been jointly organised by the Provincial Reconstruction, Rehabilitation & Settlement Authority (PaRRSA) and USAID, in collaboration with the Khyber-Pakhtunkhwa government.





(Left) Young sports fans look at the action. (Right) A team makes it way to the field of play. PHOTOS: FAZAL KHALIQ/EXPRESS




"Swat does not only belong to Swatis," said Provincial Disaster Management Authority Director General Tahir Orakzai in his opening address. "The land is dear to all Pakistanis, and although the valley was affected by militancy, peace now prevails."

During the three years of insurgency in Swat, educational activities were restricted and some 401 schools were bombed or torched by the Taliban. After peace returned to the valley, PaRRSA began the process of rebuilding the infrastructure with the help of donor agencies.

"So far, we have rebuilt some 87 schools which had been destroyed previously," said PaRRSA official Sardar Zeb. "The students of these schools are now taking part in the sports festival, the basic aim of which is to provide a healthy activity for children who have seen the ugly face of terrorism."




A veteran cricket player, Mohammad Zaman, who was accompanied by his club, said there is a huge pool of talent in Swat.

"Apart from two hockey players who play for the national team, many from Swat Valley play First Class cricket," said Zaman. "A table tennis player from the valley represented Pakistan in the Commonwealth Games, while two badminton players are national champions."

Students from across the district showed up at the opening ceremony and said they had never seen such a big sports platform before. They expressed confidence that sports will go a long way in defeating the extremist mindset spread by militants.

"We have come from Peochar in Matta tehsil, which was badly affected by the insurgency," said Zafar Ali, an eighth grade student.

"We never had a ground there, and then our school was also bombed. I have come here to show my talent and win the cricket competition."

Swat Deputy Commissioner Mahmood Aslam Wazir thanked the organisers and donors of the festival for making it possible. Honourary guests hoisted the Pakistan flag and formally kicked off the event by playing a one-over cricket match at Grassy Ground.

Published in The Express Tribune, August 20th,2014.