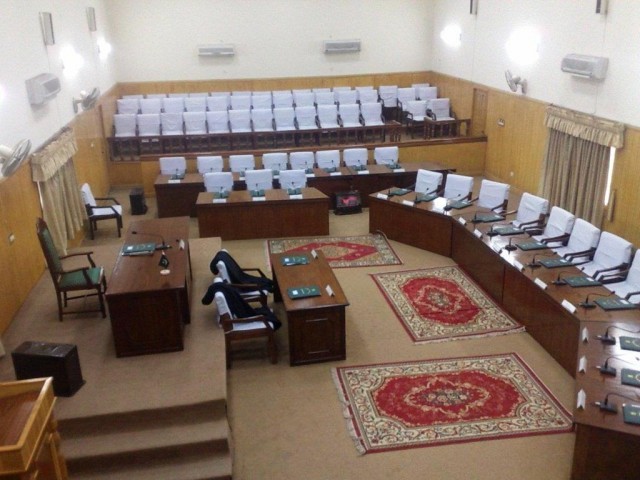 ---
GILGIT:



The Gilgit-Baltistan (G-B) legislative assembly on Monday unanimously passed the Local Government Bill 2014.




The bill was presented in the assembly a couple of days earlier for lawmakers to vet and suggest amendments. However, the bill sailed smoothly as Law Minister Ali Madad Sher read out the document in the session chaired by Speaker Wazir Baig. "It's a memorable occasion. The assembly has enacted yet another law," said Sher after the bill was passed.

Gilgit-Baltistan Police Institute (GBPI), a not-for-profit organisation, had drafted the bill after holding a series of consultations with stakeholders in G-B and Islamabad.

"It is a turning point in G-B's history as issues being faced by its residents would now be resolved at the grass-roots level on priority basis," said GBPI Director Programmes Altaf Hussain while speaking to The Express Tribune.

Hussain said the urban areas of G-B (Gilgit and Skardu) have been named city metropolitan corporations under the law, to be headed by a mayor and deputy mayor. District councils will be called district governments, which will be headed by district nazims and deputy nazims.

Under the new law, a financial commission, comprising the leader of the opposition, finance minister and local government minister, will be formed to supervise financial matters of local bodies.

As the assembly session progressed, the speaker ordered a judicial enquiry into the sectarian strife which gripped Ghanche district of Baltistan recently. The Sofia and Imamia schools of thought of the Noorbakhshiya sect clashed on August 3, leaving many people injured in the otherwise peaceful region.

The speaker's call for a judicial enquiry came after lawmakers from Ghanche district, Amina Ansari and Sultan Ali, accused Chief Minister Mehdi Shah of having a hand in the violence. "CM is backing the men involved in the violence and has also tampered with the FIR to save his men," alleged Ali.

Another senior lawmaker, Fida Nashad, also slated the chief minister, saying tampering with an FIR is a crime that leads to punishment.

Meanwhile, the house adopted a resolution tabled by lawmaker Mutabiat Shah demanding measures to prevent possible infiltration of terrorists in Hunza-Nagar and Ghizer districts as both are linked to the Wakhan corridor of Afghanistan. Moreover, it called for the permanent deployment of two wings of Gilgit Scouts on the Karakoram Highway and in Ghizer Valley to ensure security. "There are threats of terrorism in both places so it would be wise to take arrangements timely," read the text of the resolution.

Published in The Express Tribune, August 19th, 2014.
COMMENTS
Comments are moderated and generally will be posted if they are on-topic and not abusive.
For more information, please see our Comments FAQ