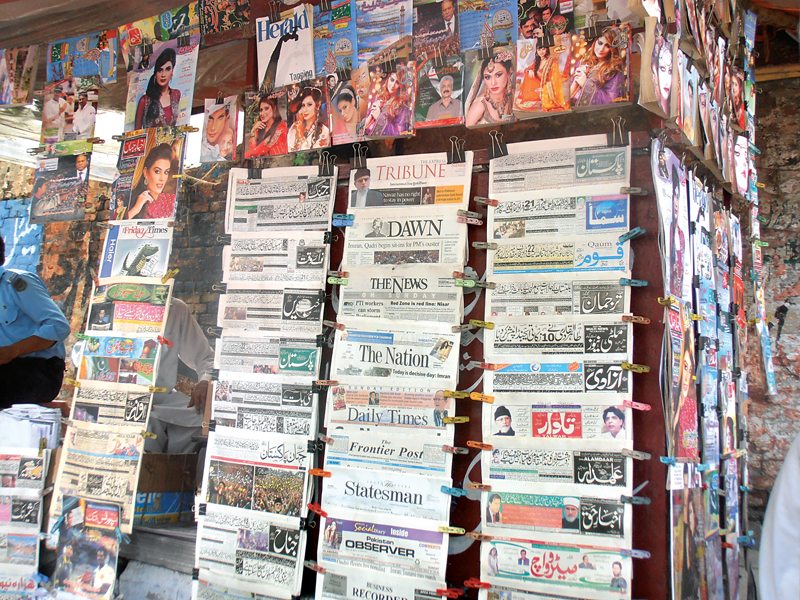 ---
ISLAMABAD: To fill the information gap emerging because of the absence of televisions and suspension of mobile phone services around the 'Inqilab' and 'Azadi' march venues, people have gone back to ever-reliable print sources.

People have thronged newspaper stalls for the last three days, said 31-year-old newspaper vendor Azhar Mehmood Abbasi. "I have sold 450 to 500 newspapers today, and at least 350 copies were bought each day since the marches began," said Abbasi, adding that on an average day he only sells 70 to 100 copies.

Abbasi, a newspaper vendor for the last 13 years, said that a large number of people preferred to buy Urdu newspapers, but sales of English dailies were also up. He felt sales have increased because people in and around Aabpara have no access to news through electronic media. "Sales increased because people are eager to get information about the happenings in and around the rallies."





Cell phones being charged via direct connections. PHOTOS: RIZWAN SHEHZAD




Another newspaper vendor, Arshad Abbasi, said he had sold around 500 copies a day since the start of the marches.

At the same time, he was upset that some march participants were buying newspapers from elsewhere and distributing them among participants, eating into his potential sales.

"Newspapers are the only source of information here," said Majeed Baig, who had come from Haveli Lakha in Okara.

'Kunda' cell phone charging

Some rally participants seem to have begun adhering to Imran Khans instructions regarding electricity bills, setting up 'charging stations' on meters installed in Aabpara market.

Many participants of the PAT rally and a smaller, though still sizable, number of PTI rally participants were seen around these charging stations.

Switches were hooked up to the main input lines on digital meters for "uninterrupted electric supply", according to a man charging his cell phone.

When asked what use
the phone were in the absence of signals, participants of the rallies said that signals they would move to other sectors of the capital where signals were available when they needed to use their phones.

Face paintings

Face painting has also turned into a booming business at the two rallies. Mohsin, a face painter, said that in the last three days he and his six-member team have drawn PTI and PAT flags on around 3,500 participants' faces, adding that women and children were not charged while men were being charged Rs20. The cost of materials for the entire job had only come to Rs1,000, he said, explaining it was easily met due to the sheer volume of customers.

Published in The Express Tribune, August 19th,2014.