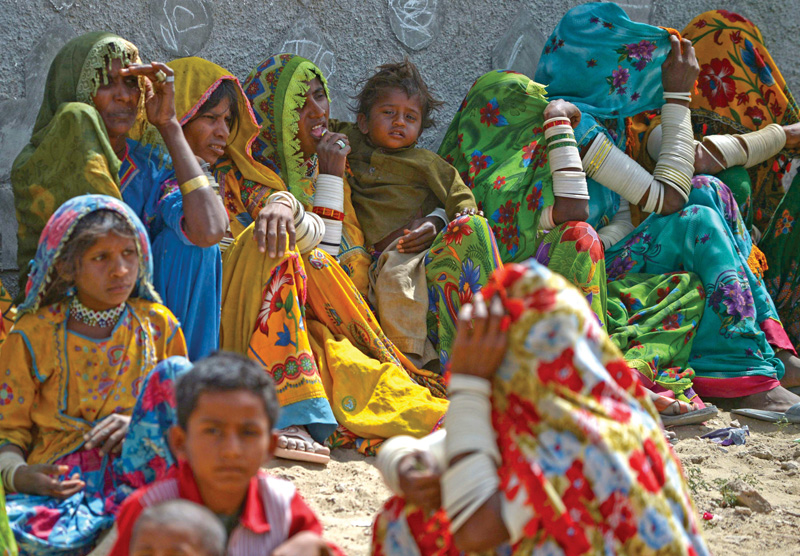 ---
KARACHI: This is the third consecutive drought the region has gone through in the last three years. The situation does not look promising as the government has not made any plans or taken action to help the residents of the area.

This is what was discussed at a talk on the drought and its effects organised at a hotel by the National Humanitarian Network.

Researcher and social activist Ali Akbar Rahimoo claimed that the Sindh Drought Mitigation and Management 2014 was in the final process of legislation with the Sindh government but due to the drought this year in Thar the situation is turning from bad to worse.

He referred to a research conducted by the Association for Water, Applied Education and Renewable Energy (AWARE) which said that providing 100 kilogrammes of wheat to a drought-affected family was not enough.

Dr Sono Khagharani said that consistent droughts were not only affecting the residents but the livestock as well.

Dr Wali Muhammad from the World Health Organisation insisted that there was a need to map and mobilise existing resources to save infants, mothers and elderly people.

He suggested that to strengthen the health system, stakeholders should come up with a plan and resources to combat the situation otherwise it could turn out to be worse than ever before.

Sartaj Abbasi, the provincial coordinator for the NHN Sindh chapter, shared that situation in Thar and other arid areas of Sindh had not changed. He said that the government should make an effort and ensure that relief goods reach the people in time.

Shah Jahan Baloch, an activist, said that the Sindh government should provide emergency assistance to the effected people as per the existing policy instead of taking time to come up with new legislation.

Dr Salman Safdar from the United Nations, said that during the last crisis in Thar, the UN did not play a major role as the government did not raise an appeal to the UN for for assistance.

Rahima Panhwar, Fakhira Abro, GR Baloch, Dodo Chandio and others also spoke at the event.

Published in The Express Tribune, August 19th,2014.