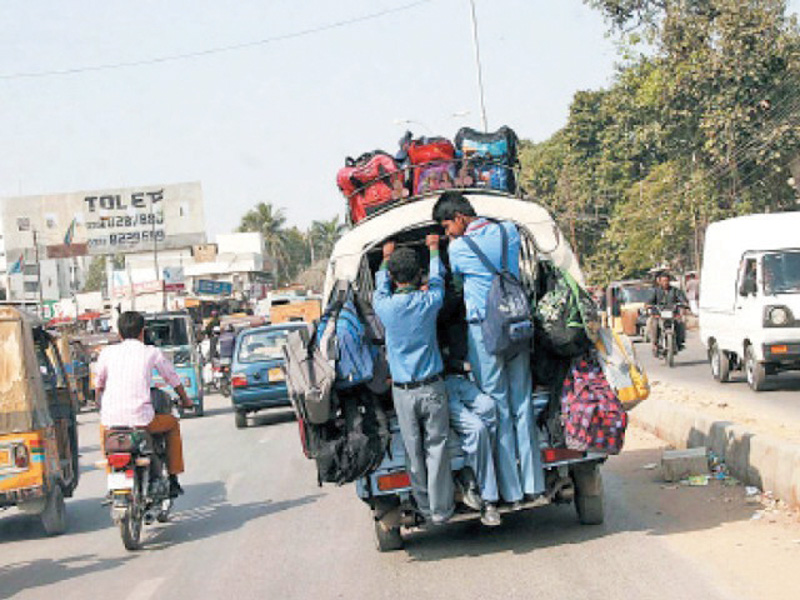 ---
KARACHI: Commissioner Shoaib Ahmed Siddiqui ordered the relevant authorities on Monday to take effective and practical steps to ensure the safety of students travelling in school vans and buses that continue to ply dangerously in the face of ineffective government drives. 

While chairing the meeting of the District Regional Transport Authority's board at his office, Siddiqui took action based on the news report published by The Express Tribune and directed the transport authority's secretary, Manshad Ali Shahani, to initiate action in coordination with the traffic police against vehicles that fail to comply with the safety requirements. Siddiqui also ordered that school administrations should be taken on board as well.

"We have been directed to speed up the drive against school vans plying in unsatisfactory conditions," explained Shahani, while talking to The Express Tribune. "Our prime task will be to check the fitness of CNG cylinders installed in school vans in line with the strategy that was chalked out earlier in January."

On January 16, Siddiqui had directed all school owners to get the CNG cylinders of the vans transporting their students tested from a reputed organisation within 15 days. Later, inspection teams were constituted, comprising representatives of the Hydrocarbon Development Institute of Pakistan, District Regional Transport Authority, deputy commissioners, special judicial magistrates and the traffic police to check vehicles in all six districts.  During the meeting, the Karachi Commissioner also said that the overall fitness of school buses and vans should be examined to ensure whether or not they are up to the standard.

Shahani explained, however, that the matter of ensuring overall fitness of school vans and buses was not likely to be implemented unless the proposed laws were approved by the provincial assembly. These allow the transport authority to coordinate with the traffic police department's motor vehicles fitness inspectors.

The meeting also decided that the traffic police department will make sure that the drivers of the school buses and vans were trained on safely rules and made familiar with the traffic rules.  Meanwhile, the Karachi Metropolitan Corporation's transport and communications director, Muhammad Athar, was asked to suggest steps to bring uniformity in school buses and vans in order to make them more identifiable on roads. Whether the earlier directives of designing and painting school buses and vans yellow were feasible or not was also discussed.

Published in The Express Tribune, August 19th,2014.