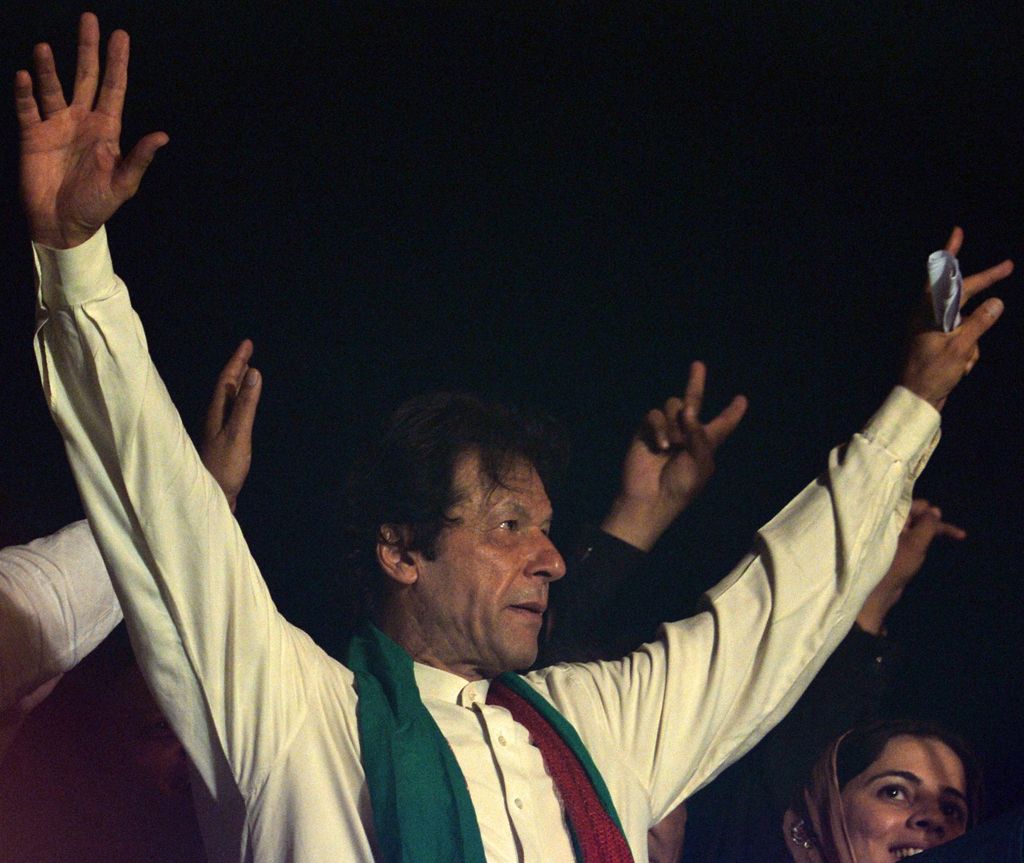 ---
ISLAMABAD:



Leader of Pakistan Tehreek-e-Insaf (PTI) Imran Khan mounted a mass civil disobedience movement against the government on Sunday with a warning that Prime Minister Nawaz Sharif had exactly 48 hours to resign or else he would not be able to control his highly charged workers from swamping the Prime Minister House.




The ultimatum came barely 24 hours after a two-day deadline was set for the prime minister by Pakistan Awami Tehreek chief Dr Tahirul Qadri on Sunday.




"We'll not pay taxes. We'll not pay electricity bills. We'll not pay our gas bills. We'll not pay our telephone bills," Imran said in a much anticipated speech peppered with party songs as choreographed slogans from the crowd rose to a crescendo.

Initially, Imran gave Nawaz Sharif a one-week deadline – but sensing the mood of his zealous supporters, he brought it down to three days. The crowd still appeared unwilling for this. And finally, Imran set a 48-hour deadline.

"Will you join the civil disobedience movement?" Imran asked his supporters who shouted 'Yes' in unison. Calling it a test for his party workers, Imran appeared confident that they would pass the test with flying colours. "I know you want to storm the Prime Minister House. But I don't want chaos. I don't want anarchy that could lead to military intervention. I believe in democracy," he told his emotionally charged workers.

Imran's address came hours after some PTI activists tried to march towards the Red Zone where key government buildings and foreign diplomatic missions are located.




The PTI chief ordered his supporters to not venture towards the Red Zone, because he did not want to renege on a commitment he had made to Interior Minister Chaudhry Nisar Ali Khan. "After two days, I'll ask Chaudhry Nisar that I cannot control the tsunami. After two days I'll ask Mian Nawaz Sharif that I cannot control my workers," he said.

In the speech that he described as the most important in his 18-year long political career, Imran said that he made the decision of launching the civil disobedience movement after 12 hours of brainstorming. He said that since Nawaz Sharif was reluctant to resign voluntarily, the PTI was left with two options. "The first option is that we march towards the Prime Minister House (located in the Red Zone). This will be dangerous as the marchers are likely to clash with the police," he said, adding that his party didn't want to hurt the Pakistani police.

Speaking about the rationale for his demand of the premier's resignation, Imran said that Pakistan's future under Nawaz Sharif was bleak. He claimed that the Sharif family had been involved in massive corruption yet nobody was ready to take action against them. The Sharif family, according to Imran, has a track record of buying the loyalties of every individual who tried to take action against them. "They introduced Lifafa journalism in Pakistan and bought journalists. They bought judges. They bought the election commission. They tried to buy generals," he added.

Imran claimed that dozens of cases of corruption were pending against the Sharif family in the National Accountability Bureau (NAB) but the bureau was reluctant to take action against them. "Nawaz Sharif always tries to hide behind the cover of the Constitution," he added. "There is no other way, except public pressure, to oust him.

The PTI chief said that the Sharif family has set up a monarchy in the country in the name of democracy and amassed a fortune through underhand deals. "Nawaz's son owns a 100-billion-rupee business in London and lives in a house worth Rs10 billion," he alleged. "All this wealth was laundered from Pakistan."

Imran also repeated his allegation that the 2013 elections were massively rigged in favour of the PML-N. "Nawaz Sharif bought people in the Election Commission of Pakistan, [the then] chief justice, caretaker Punjab chief minister Najam Sethi and Geo/Jang Group owner Mir Shakilur Rehman. And they all fixed the match," he alleged. "The PML-N's has a spurious mandate and the government has no legitimacy to stay in power."

The PTI chief also took an oath from his supporters that they would not accept a tyrannical rule or a tyrannical system. He said that their sit-in would continue for two days during which they would celebrate independence. He would stay with his supporters at the venue. "Every day we'll expose the corruption of their ministers, MPAs, MNAs and their crony bureaucrats," he said.

At the same time, Imran requested the residents of the twin cities to share food and water with the participants of the dharna as they were fighting a battle to free the entire nation from the clutches of corrupt rulers.

Published in The Express Tribune, August 18th,2014.