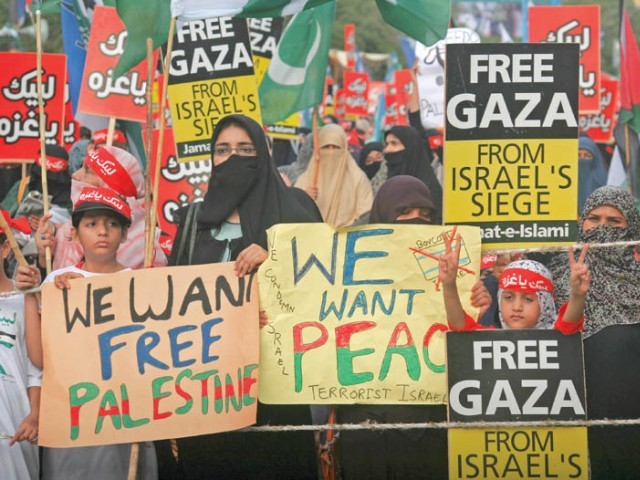 ---
KARACHI:



While the leaders of the Muslim world are engaged in the politics of self-interest, cemeteries in Gaza cannot accommodate people who have died in the Israeli aggression, said Jamaat-e-Islami (JI) chief Sirajul Haq on Sunday at a rally in support of Gaza in Karachi.




The rally was held as the Israel's offensive in Gaza entered its 41st day and the Palestinian death toll has soared past 1,900, according to the United Nations High Commissioner for Human Rights.

"I met Nawaz Sharif and wrote to the rulers of Saudi Arabia and Iran to remind them of their responsibility. But they did not bother to convene an Organization of the Islamic Cooperation's meeting to ramp up diplomatic pressure," Siraj said.




He added that Muslims across the world should question the purpose of having an army of over seven million troops if they cannot be used to resolve the humanitarian crisis in Gaza.

The JI chief also urged chief of army staff General Raheel Sharif to take a stand in resolving the Gaza crisis.

"He is the chief of the army of Pakistan – the country whose ideology and philosophy extends beyond geographical boundaries," he said. "We [Muslims across the world] look towards him to defend that very ideology by raising a voice in these pressing times."

Siraj described the huge turnout at the rally – especially in the face of political tension in Islamabad – as a sign that Pakistanis are concerned about their brothers and sisters in Palestine. He added that it was lamentable that the political parties in Pakistan were embroiled in a battle against each other.

"The JI also supports the call for electoral reforms and transparency in electoral process, but cannot accept that at the cost of another martial law in the country," Siraj said.

In a telephone address, Khaled Mashal – the political leader of Hamas – expressed his gratitude to the Pakistanis for showing solidarity with the Palestinians.

Addressing the participants, leader of the Opposition in the National Assembly Khursheed Shah said that the rally was a clear testament to the fact that Muslims across the world were united against Israeli aggression in Gaza.

The rally also drew support from other political parties – including Pakistan Muslim League-Nawaz, Pakistan Peoples Party, Jamiat Ulema-e-Islam-Fazal, Jamiat Ulema-e-Pakistan, Jamaat-ud-Dawa, Majlis-e-Wahdat-e-Muslimeen. A mixture of both old and young people – waving flags, posters and banners – slammed what they termed as "Israel's inhumane massacre of Palestinians" and marched down one of the city's busiest thoroughfares.

Published in The Express Tribune, August 18th,2014.