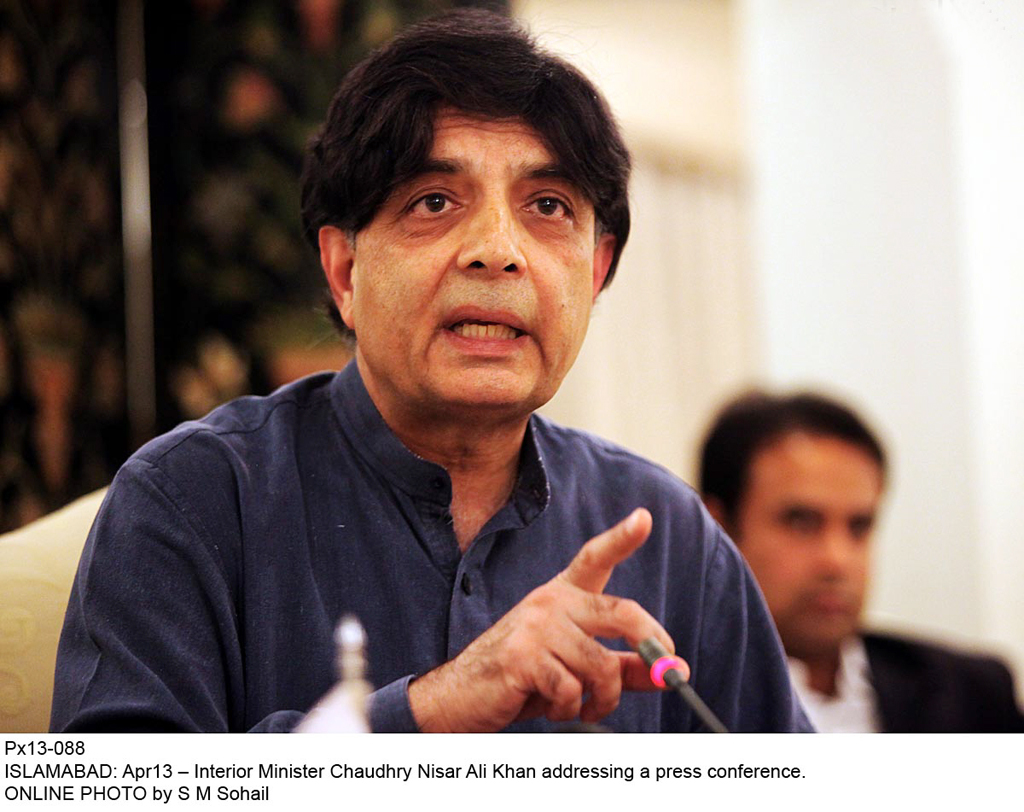 ---
ISLAMABAD: Interior Minister Chaudhry Nisar Ali Khan has said that the government is willing to listen to each and every constitutional demand of the Pakistan Tehreek-e-Insaf (PTI) and the Pakistan Awami Tehreek (PAT), Express News reported.

"As a goodwill gesture, we have decided to constitute two separate committees to negotiate with PTI and PAT," said Nisar while addressing a press conference late Sunday night. "We are ready to hear all their constitutional demands," he added.

Earlier in the day, PAT chief Tahirul Qadri and PTI chief Imran Khan reiterated their demand for the resignation of Prime Minister Nawaz Sharif in separate addresses to their supporters, with the latter announcing the launch of a civil disobedience movement.

The interior minister said that the committees would be announced on Monday, and would be comprised of leaders of different political parties.

Nisar claimed that despite provocations by the PTI and PAT, the government exercised restraint and facilitated the long marchers. "We allowed them to stage their sit-in where they wanted to and provided security," he said.

The minister further claimed that one billion rupees had been spent on the security of the supporters so far.

He alleged that the long marches were diverting the nation's focus from the real issue, which is the ongoing military operation in the country.

The interior minister went on to express his amazement at PTI chief Imran Khan's call for civil disobedience, saying, "Civil disobedience is not against the government, it is against the State."

Addressing the PTI chief, Nisar said, "Today, you are advocating for civil disobedience, what if tomorrow your party comes into power and your opponents decide to launch a civil disobedience campaign against you."

"I request Imran Khan not to make the nation suffer in misery," said Nisar.
COMMENTS (11)
Comments are moderated and generally will be posted if they are on-topic and not abusive.
For more information, please see our Comments FAQ