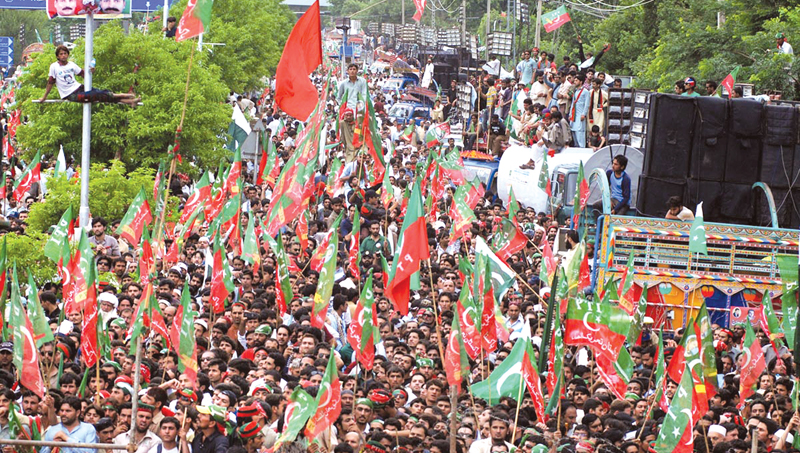 ---
ISLAMABAD: The crowds at the Pakistan Awami Tehreek (PAT) "revolution march" and Pakistan Tehreek-e-Insaf (PTI) "freedom march" are largely populated by participants from two provinces, as the majority hail from Punjab and Khyber-Pakhtunkhwa (K-P).

Representation for the provinces of Balochistan and Sindh was minimal. Workers of both parties said supporters had not come in large numbers due to the greater distances involved.

"The Punjab government was not allowing us in and placed containers on all roads. How would they get here?" asked Muhammad Irfan from Faisalabad.

He said that people from every nook and corner of the country wanted to join the PTI march, but the government was creating hurdles and using state machinery to keep the number down.

Muhammad Noushad, a PAT worker from Lahore, told The Express Tribune that though there were few participants from Balochistan and Sindh, the revolution promised by their leader was for all Pakistanis. "Though representation from those provinces is low, they are committed workers," said Naushad.

He remarked that admirers of Tahirul Qadri were spread all over the country and were ready to render any sacrifice for the revolution.

Wahid Ahmad Salara, who hails from Hafizabad, said Qadri was struggling for the underprivileged. He said people from the two provinces were not many in number because they lacked resources. "How can they travel with their meagre resources," Salara asked.

Muhammad Ilyas, another PAT worker from Lahore, said the great distance was the reason behind the limited number of participants from the two provinces. He said that they know that the heart of every Pakistani was with them, irrespective of whether they had joined the march or not.

Participants of the sit-ins were unaware of how Qadri's 10-point agenda and Imran Khan's demands would be implemented, simply replying that their leaders knew better.

Mujtaba Haider and his wife Sadia, PTI workers from Lahore, said that their party would introduce a system of land reforms after toppling the PML-N government. They were of the view that abolition of the feudal system was not possible under what they said present "exploitative system of the Sharifs."

The feudal system can only be abolished once Imran Khan becomes prime minister, the PTI supporters said.

Ishfaq Khan, who hails from K-P, said he did not have any idea about land reforms but was just here to support his leader. He added that he admired Imran because he "is a brave man".

Published in The Express Tribune, August 18th,2014.