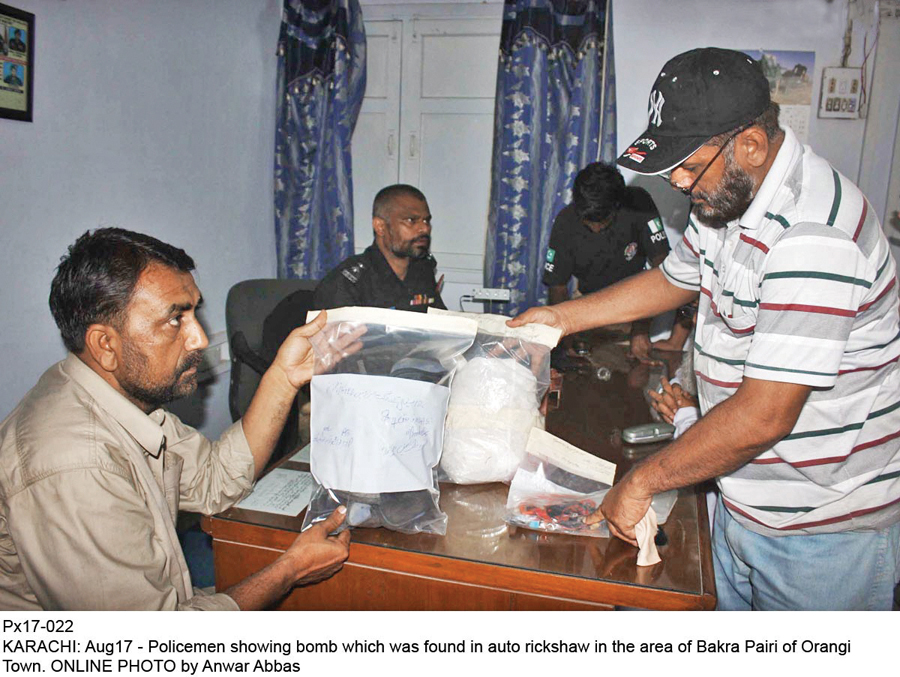 ---
KARACHI: Officers on duty at the Orangi Town police station had a busy Sunday morning as residents informed them about a bomb being present in the area at around 7:50am.

Tragedy was averted as they found the bomb in time and experts from the bomb disposal squad managed to defuse the device before it could cause any damage. The police believe that the device was planted to target law enforcers.

The bomb was found in a rickshaw parked outside a mechanic's shop located near Bakra Piri, Banaras within the limits of the Orangi Town police station.




"Initially, we looked for suspicious looking materials in or on the rickshaw," said Orangi Town SHO Tanvir Murad while talking to The Express Tribune. "When I found some electrical wires, I immediately asked my men to run." The officer added that the bomb was covered with a school bag and a polythene bag.

Once they spotted the bomb, the police informed the bomb disposal squad who defused the bomb.

The area was cordoned off and no one was allowed to enter within a 300 metre range. The bomb disposal experts told the police that the bomb was attached to a remote controlled device and the person with the remote could make it go off within a range of 300 metres.

According to the bomb disposal expert, the bomb was concealed in a steel container and covered with two bags. He said that it weighed around six kilogrammes including explosives and ball bearings.

This is not the first incident to have taken place in the city, particularly in District West as several bombs have been defused by the bomb disposal squads planted outside police stations and Rangers patrolling routes.

Initial investigation suggests that the bomb was planted at a place with no important institution or installation in sight and was targeting a vehicle of law enforcers. The police believe that members of a militant outfit were behind the incident.

"There is no doubt the bomb was planted to target us," said SHO Murad. "They are targeting us and we are taking actions against them every day."

They have registered an FIR No. 174/14 under Section 4/5 of the explosive act case against unidentified persons on behalf of the state and have initiated further investigation.

IG Ghulam Haider Jamali announced Rs100,000 for the police team which defused the bomb in Orangi Town.

Published in The Express Tribune, August 18th,2014.